Remini: John Travolta 'Believes In' Controversial Scientology 'Tech'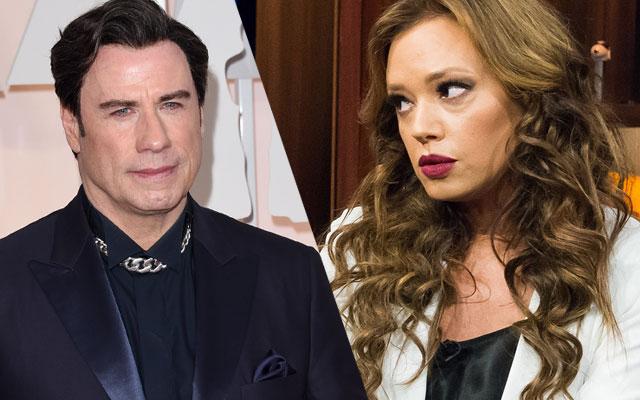 Leah Remini is not backing down! The former Scientologist continued her explosive claims against the church and its members in a bombshell interview with Howard Stern Tuesday.
Remini, a lifelong Scientologist raised in the church, said she wasn't impressed by the organization's notorious celebrity worship. "Tom Cruise, as a celebrity, is a much bigger celebrity," she told Stern. But she said, "I felt a little bit more superior in certain areas because I was higher trained….I had listened to all these new tapes that had come out before anybody."
Article continues below advertisement
As RadarOnline.com reported, in her new book, Troublemaker, Remini calls Cruise an "overgrown child" who she witnessed melt down in explosive rages.
But she has better words for another A-list church member, John Travolta. "John is such a sweet man!" she gushed. "He loves the technology of Scientology. He believes in it."
However, she said, that belief came between them.
"Here's the problem with parishioners," she told Stern. "I was going to my friends, going, 'Hey this is going on. Let's fix it. Let's make it right,' and they would just turn their backs on me."
"They didn't want to get pulled into a security check at their expense of, 'Why are you going on the internet? Why are you listening to Leah?'
You couldn't even get the parishioners to speak up for their own organization."
And when she spoke up, she says, she was cut out. She left the church in 2013.
"Kirstie Alley couldn't talk to me," she claimed. "I'm shunned. Same with Tom Cruise. "They'd look away. They'd walk away … You're supposed to disconnect from anybody that's antagonistic to what you're doing in your life."
Article continues below advertisement
Her feuds, however, aren't limited to Scientologists. As RadarOnline.com reported, she had a secret spat with The Talk cohost Sharon Osbourne.
"I don't wanna be disrespectful," she told Stern when asked about Osbourne and her departure from the show. "This was a girl thing. This had nothing to do with being professional."
The church has claimed: "Her repeated ethical lapses and callous treatment of others led to an ecclesiastical review, which resulted in her being expelled….She now regurgitates the tired myths the church has repeatedly debunked."
What do you think is Remini's most shocking claim yet? Let us know in the comments!