Kris Begs O.J. Simpson Story Producers To Cover Up Facts To Protect Kardashian Legacy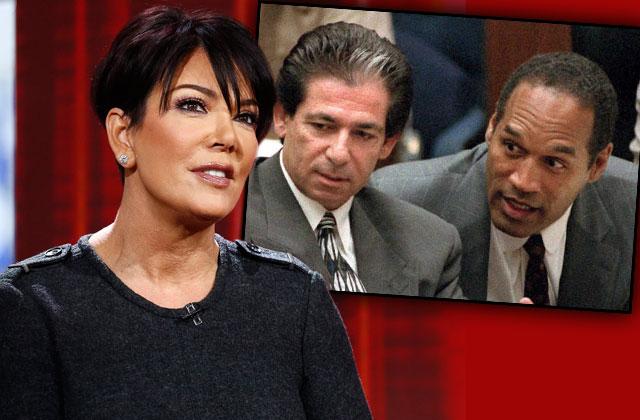 Kris Jenner met with executive producers of The People vs. O.J. Simpson miniseries, asking that her ex-husband, Robert Kardashian be portrayed as a sympathetic figure — and that certain damaging information be left out!
The June 1994 day after the murders of Nicole Brown Simpson and her friend Ron Goldman, Kim Kardashian's father (and confidante of accused killer O.J. Simpson) Robert Kardashian Sr. was spotted by television cameras taking a Louis Vuitton garment bag out of his Rockingham mansion — which some trial watchers believed it could have contained a Simpson murder weapon, and other physical evidence. Simpson had just returned home from Chicago.
Article continues below advertisement
According to a source, "Kris asked that anything that would harm the memory of Robert not be included, as it would tarnish his legacy. It was a ballsy thing for Kris to ask for, and she got it. It was left out and not included."
The series depicts a frantic Kardashian trying to gain access to the mansion after O.J. returns home, as it's surrounded by cops and the press. There was no mention of Robert taking the Louis Vuitton luggage away from the estate, and away from prying eyes of the cops.
"It was absolutely stunning, this huge early development of the murder and the cover-up was just dropped. Instead, there are scenes of Robert taking the four kids to dinner at a local Chinese restaurant and not waiting for a table because he was recognized as being a pal of O.J.'s. What relevance does that have to the murders?" the insider added.
Ron Goldman's sister, Kim, previously told us, "I have always wondered what was in his O.J. Simpson's luggage bag, and if it did indeed hold the murder weapon that was used to kill my brother and Nicole. Robert Kardashian certainly had motive to help him get rid of the evidence."
MORE ON:
Robert Kardashian
Article continues below advertisement
At the time of the infamous murders, Robert Kardashian didn't have an active law license, but after O.J. was charged in the case, he quickly applied to have it reactivated, which was a calculated move according to Kim Goldman. Simpson also stayed with Kardashian in the days after the grizzly murders, before he was formally arrested.
"Robert Kardashian was a very smart man and I absolutely think it's possible that he hid or destroyed key evidence including the murder weapon."
Kim Kardashian's dad died in 2003 of esophageal cancer, only weeks after being diagnosed.
60-year-old Jenner's involvement with the series also extended to Selma Blair, who is playing the momager.
Blair told Vogue.com, "She (Kris) was welcoming and great, and then I talked to her on the phone for a while and we ended up becoming friends. So I got a great friendship out of this deal."
Our source added, "Kris will obviously do whatever it takes to protect the family name while also trying to rewrite history."