Kelly Goes 'Rogue!' Ripa Blindsides Michael Strahan With Shocking Divorce Dig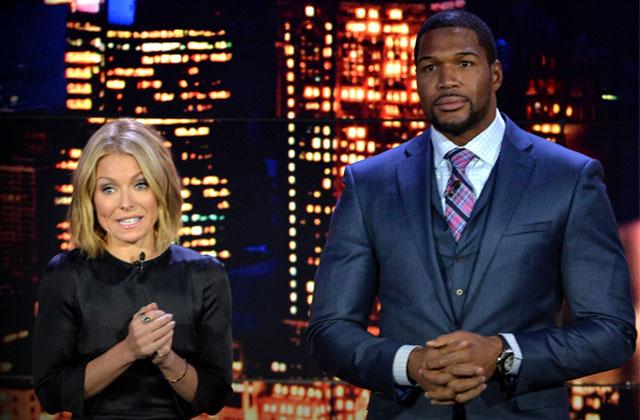 The bitter feud between Live! co-hosts Kelly Ripa and Michael Strahan continued on Friday as Ripa blindsided her co-host with a nasty divorce dig. And RadarOnline.com has learned it was totally unplanned!
"Opening chat topics were set and producers went over them," an insider told RadarOnline.com. "But Kelly went rogue."
Ripa enthusiastically began, "There's a great article in the paper and I want to get your take on it because I don't have a take on it. But I want yours. So you've gotten divorced …"
Article continues below advertisement
"After segment he confronted her at break," the insider revealed. "She laughed and said it was just fun, but he got more and more angry and after show he snapped at her backstage."
As RadarOnline.com previously reported, tensions between the two hosts began last week when Strahan announced he was moving on to host Good Morning America without telling Ripa first. In an apparent shock, she then took an unexpected one-week hiatus and retuned on Tuesday. Now, Strahan is expected to leave in just a few weeks — much faster than initially planned. And according to the insider, the end can't come soon enough.
"He fears this is going to go on until he leaves!" said the source. "She's taken digs at him, but never on live TV before. Some segments are prepped, but this part was live! They could not have edited her comments out and she knew it."