Shocking Weight Confession: Kim Kardashian Says She's Gained 20 Pounds & Won't Leave Home Without Spanx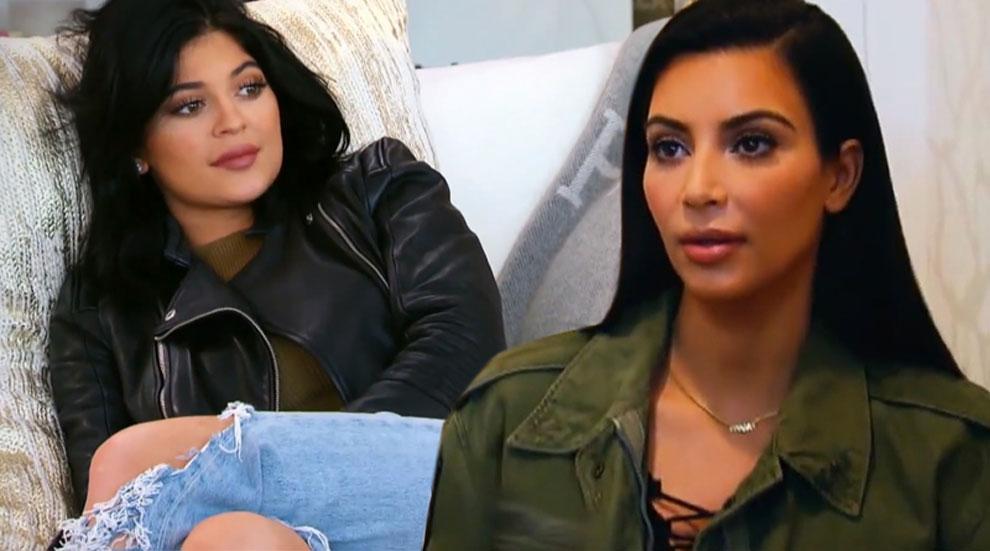 Kim Kardashian revealed she's insecure about packing on 20 pounds on Sunday's episode of Keeping Up with the Kardashians.
While trying to convince sister Kylie Jenner to come clean about her obvious lip plumping, Kim told her and sister Kendall Jenner that she also has issues about her looks.
Kim said she had posted a picture of herself and "everybody thinks, 'she got her butt done and her hips done' and all this stuff.
Article continues below advertisement
"I'm like, 'No, I'm legit 20 pounds heavier,'" Kim sighed.
Kendall assured Kim she still looked smoking hot, but Kim admitted, "I'm so insecure lately. Seriously, just with my weight. I cannot leave the house without Spanx."
Watch the video on RadarOnline.com
Earlier, Kim had exposed the reason why she was getting so huge -- a fast food diet!
She told her sisters that something "life-changing" had happened in their Calabasas hometown -- an In-N-Out Burger (a fast food restaurant) had opened.
Later, Kim showed Kourtney new sexy nude photos she'd had taken secretly in the desert for her revamped web site and added, "We went to KFC on the way there."
Incredulous Kourtney asked, "On your way to a photo shoot?"
"Yeah, can you believe it?" Kim said.
The star said she only ate the chicken: "I didn't eat the potatoes or anything like that."
Kourtney replied, "Just a fried, greasy bucket of chicken!"
Article continues below advertisement
Kim laughed, "And then we went to In-N-Out on the way home."
It's not the first time the reality TV star has mentioned her weight problem.
As RadarOnline.com has previously reported, Kim said on a March episode that husband Kanye West had threatened to fire her personal trainer because the person said "there's no way" she could lose 15 pounds.
And during the scene, it came out that Kim tipped the scales at 135.
But Sunday's episode, as RadarOnline.com has previously reported, revolved around Kylie finally revealing she'd had her lips injected with "temporary fillers" because she'd always been insecure about them.
Sister Khloe -- who -- told Kim they had to school Kylie on how to deal with her plastic surgery.
Khloe said "the lips changed her life" and thought she should tell the media the truth after an E! reporter asked Kylie about her lips and she was forced to dodge the question.
Article continues below advertisement
(At the event to promote a hair extensions line, viewers also saw Tyga appear for the first time on the show as Kylie's boyfriend, telling her he was proud of her).
Later, Kim told Kylie her lips looked great and when people asked, she needed to admit she'd had them plumped.
"You only have one life, do what makes you happy -- to an extent," Kim said. "Just make sure you keep everything subtle and don't go overboard … own up to it."
She told the cameras, "I always tell Kylie, we've all had our own insecurities and there's nothing to be ashamed of; if someone asks you about your lips, just be honest."
Then Kylie had a big interview with Teen Vogue and feared getting the question about her lips, but the editor didn't ask.
Instead, Kylie shared that her self-esteem was never good because she had beautiful sisters, and posed for a wild, Mad Max-style cover for the magazine.
Article continues below advertisement
"Now I feel comfortable to face these things I was insecure about before," Kylie said.
Fans also saw Scott Disick try to employ baby mama Kourtney as his interior decorator after he got into the house flipping business and needed furnishings.
But the plan went awry as Disick didn't like her fussy ways and breaks to breast feed.
Kourtney accepted his decision that he would pay someone else to do the job -- but vowed to get into the house flipping business herself.
Also on the episode, Disick and Kim discussed the bad old days before plastic surgery made it possible for people to look younger.
Disick was a big fan of boob jobs and told Kim, "Saggy old boobs, hanging to the ground. No thanks, I'll pass."