'I Couldn't Breathe!' Porn Star Reveals Graphic, Disturbing New Details Of Josh Duggar's Alleged Sex Attack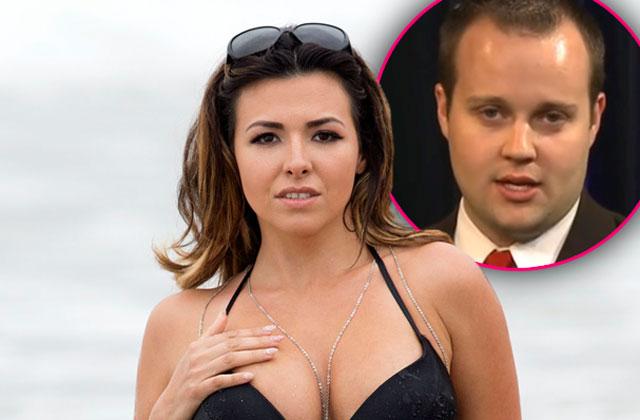 WARNING: GRAPHIC CONTENT BELOW.
Danica Dillon has accused Josh Duggar of choking her and calling her degrading names during sex— but now, the porn star is revealing even more shocking details of the alleged incidents that led her to file a $500,000 battery lawsuit against the disgraced "family values" activist.
The adult film actress, 29, opened up to Hustler magazine's April 2016 issue about the nights that allegedly left her physically and emotionally damaged.
Article continues below advertisement
When the married father of four, 27, arrived to her Philadelphia hotel room in March 2015 after a late night at a strip club, he "walked in and instantly was like, 'Get undressed. Get on your knees,'" Dillon claimed. "There was no intimacy, nothing."
"He grabbed my head and pulled me on to him and was doing a forced blowjob. I couldn't breathe."
She claimed he put his hands around her neck, leaving red marks, and continued forcing her to give him a blowjob. All the while, "he's degrading me and telling me I'm worthless," she said.
"He picked me up and threw me down on the bed and bent me over and was pulling my hair, calling me a dirty slut, telling me that I deserved it."
When she pushed him away, he "pinched" her lips together and spat in her face.
After the "terrifying" hour and a half of unprotected sex, the mother of two wondered, "If he's done this to me, how many other girls has he done this to? Has he murdered anybody?"
Article continues below advertisement
She said she felt "dirty, disgusting" and sat in a hot shower for nearly an hour.
During their second sex session a month later, she claimed Duggar was gentler, but still was "verbally abusive, calling me a slut, a skank," she said.
Just as the time before, he "came all over my a** again," Dillon claimed.
Now, she said she hopes her former sex partner remains in his Bible-based rehab facility for longer than the expected six months. "He needs long-term treatment," she told the magazine.