Strip Club Employee Reveals Details Of Josh's Night With Porn Star — Shocking New Photos!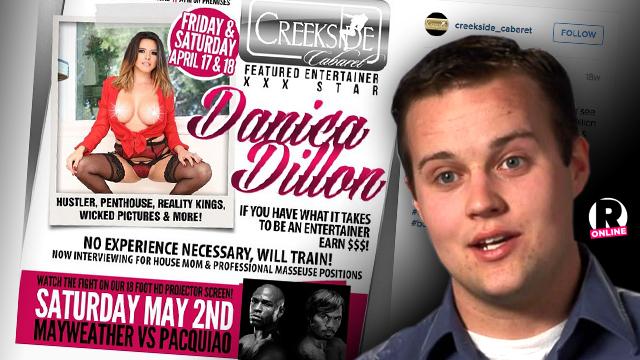 Josh Duggar shared a steamy night with Danica Dillon at a Philadelphia strip club and RadarOnline.com has new details -- and photos!
Article continues below advertisement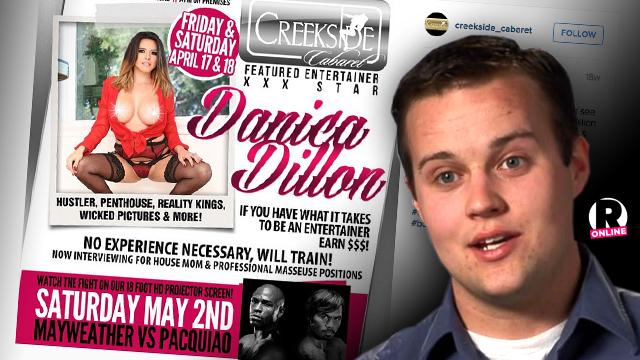 According to a report in In Touch, Duggar went to Creekside Cabaret in April to meet up with Danica Dillon after Dillon claims the couple had a sex romp in March. RadarOnline.com can reveal that the betrayal took place during one of Dillon's mid-April visits.
Article continues below advertisement
Josh didn't tweet on April 17, but on April 19, he tweeted a photo of his son Marcus playing in the family RV. And on April 19, he and pregnant wife Anna flew with their kids to Arkansas to visit the family -- just hours after he met up with Dillon yet again.
Dillon said that she ran into Josh at the door to the club the night of his visit, but an employee told RadarOnline.com he went under the RadarOnline.com.
Article continues below advertisement
"Honestly nobody knew who that guy is," a Creekside Cabaret employee told RadarOnline.com. "If he walked in here now, I wouldn't know who he is. He could come in here every night of the week, I wouldn't know.
MORE ON:
19 Kids and Counting
Dillon told In Touch that she and Duggar had sex again after the night at Creekside, and she claimed he paid her $1,500 for the encounter.
Article continues below advertisement
"At the end of the encounter, he got dressed and put the money on the counter and said, 'I hope to see you again soon,'" she told the magazine.
And he never asked for a photo, she said.
Article continues below advertisement
Creekside has a 4-star rating on gentlemensreview.com, and 4.2 stars on clubratingz.com.
One reviewer called it a "fantastic place," and "worth the money."
Dillon said Duggar visits to the club and encounters with her prove he is a "complete, 100 percent, total fraud."