Exclusive
Still A Sicko! Jodi Arias Toys With Men Behind Bars — Manipulations Exposed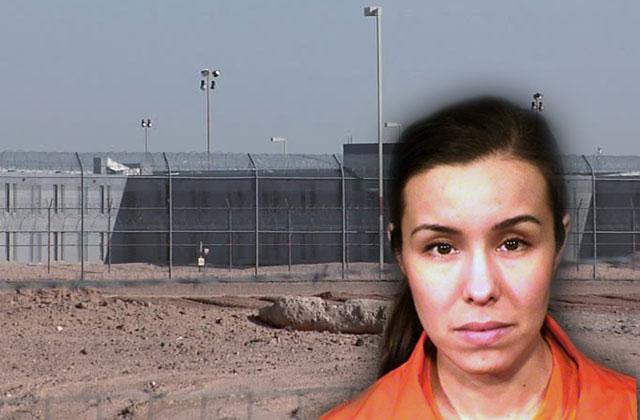 Jodi Arias is serving a life sentence for the brutal slaughter of Travis Alexander, but that hasn't stopped her from plotting out new ways to manipulate the men in her life, RadarOnline.com has exclusively learned.
A new report claims that the convicted killer is planning a wedding behind bars. However, multiple sources have told Radar that not only is she not getting married, but she is stringing along many different "suitors" for nefarious reasons.
Article continues below advertisement
Radar has learned that her weekly prison commissary purchases, $100,000 "appeal fund" and more, are financed by men she strings along.
"Jodi depends on several wealthy and several not-so-wealthy men who 'court' her by refilling her commissary and contributing to her appeal," a source connected to Travis Alexander's killer told Radar.
"She can't afford to alienate any of them by publicly announcing a wedding!"
As Radar previously reported, Howard Stern Wack Pack member Ass Napkin Ed communicated with Arias while she was in the Estrella jail, and said that he asked her to marry him, but she declined.
The magazine report detailed steamy visitation sessions with Arias' one-time boyfriend, Bryan Carr, who Radar has learned is not on her call or visitation list in the Perryville Prison. Carr claimed they engaged in dirty talk when he would visit her on Saturdays, but as Radar has exclusively reported, Arias' current visitation days are on Thursdays.
Due to her disciplinary violation in February, for calling a guard a "c**k-blocker," Arias lost contact visit privileges for at least 180 days and is currently only allowed to see visitors from behind a glass wall where she is held in a "cage."
And despite criminal Donavan Bering's claims to the magazine that Arias is on 23-hour a day lockdown and isn't aware of current events, Alexander's killer bragged about her cable channels in an audio recording of her phone call to Kareem "Lefty" Williams published exclusively by Radar earlier this year.