Jennie Garth & David Abrams Enjoy Romantic Hollywood Wedding –– Find Out The Details Here!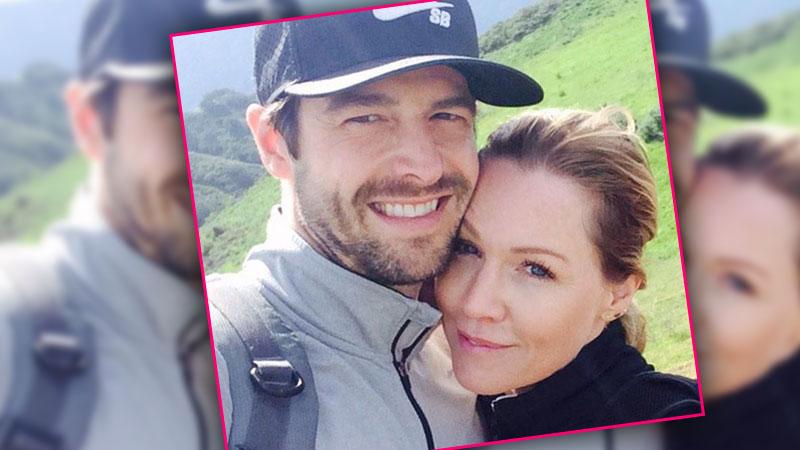 Jennie Garth got married for the third time, tying the knot with actor-producer Dave Abrams this past weekend in a romantic wedding befitting of a Hollywood couple.
The 90210 actress and Abrams sealed the deal in the backyard of Garth's Los Olivos, Calif. home Saturday evening, coinciding with the sunset.
She walked down the aisle wearing a long-sleeved bridal gown adorned with pink flowers, keeping her hairdo pert in a bridal bun. A string quartet provided the sounds as the spouses-to-be individually marched down the aisles, past wooden pews of family and friends, toward a magnificent white altar decked out in flowers and plants.
Article continues below advertisement
Both a male and female presided over the stunning ceremony, in which the stunning Garth and Abrams read one another vows they had written to one another.
"Jennie switched off between laughing and getting teary eyed as David said his," a witness told Us Weekly. "When they kissed and were pronounced husband and wife, everyone screamed and cheered."
The 43-year-old's three daughters from her previous marriage to Twilight star Peter Facinelli (Luca, 17, Lola, 12, and Fiona, 8) wore floral crowns, and the newlyweds hugged the trio as they walked back down the aisle after vows were exchanged.
"David was so good with all of them," the witness told the magazine. "At one point, he picked up Fiona and was holding her while they took pictures. He was very loving and sweet with her."
Famous faces in attendance included Garth's longtime friend and co-star Tori Spelling, her Mystery Girls co-star Miguel Pinzon and celeb stylist Erik Rudy.
Garth was previously wed to Daniel B. Clark from 1994 until 1996, and to Facinelli from 2001 until 2013.