Exclusive
Subway Disgrace Jared Fogle's Ex-Wife Filed For Restraining Order In Bitter Divorce: 'He Became Controlling,' Says Source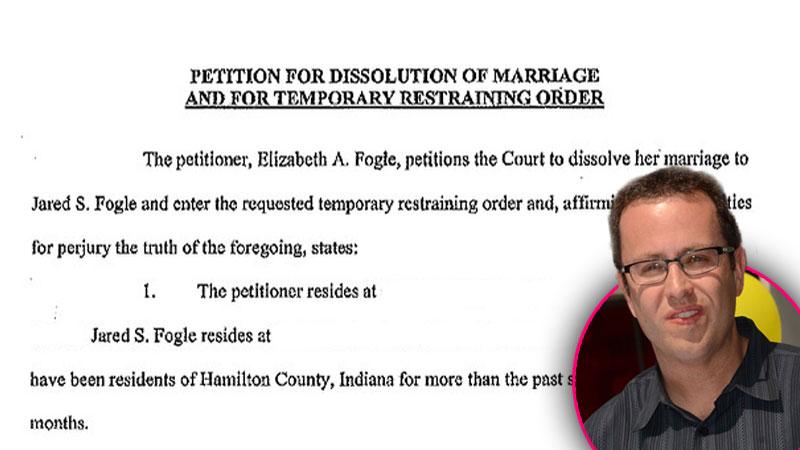 Jared Fogle's secret skeevy past is back to haunt him.
As police investigate the fired Subway spokesman's possible connections to their child porn investigation, RadarOnline.com can exclusively reveal that his ex-wife, Elizabeth Christie, petitioned for a restraining order against the anti-obesity crusader in their messy 2007 divorce.
According to Indiana superior court documents obtained by Radar, Christie— then known as Elizabeth Fogle— petitioned for dissolution of marriage and for temporary restraining order on March 27, 2006.
Article continues below advertisement
READ THE SHOCKING COURT PAPERS
"Each party should be restrained from transferring, encumbering, concealing, selling or in any way disposing of any joint property of the parties or assets of the marriage," Christie's attorneys wrote in the document, before requesting the court schedule a hearing "to consider the requested restraining order."
The pediatric nurse, 36, who wed Fogle five years prior, claimed the marriage was "irretrievably broken."
"There is no reasonable possibility of reconciliation," her lawyers said.
According to sources close to the former couple, Christie was "miserable" in her marriage due to Fogle's cruel behavior.
"He became controlling and had a mean streak in him," an insider exclusively tells Radar. "He'd take her to the Indianapolis Colts games and argue with her. She'd be crying."
The divorce was finalized in October 2007, and he went on to marry Katie McLaughlin, 35, in 2010. The couple has two children together.