Exclusive
Jac's Worst Nightmare! Laurita Nearly $340K In Debt Amid Bankruptcy Scandal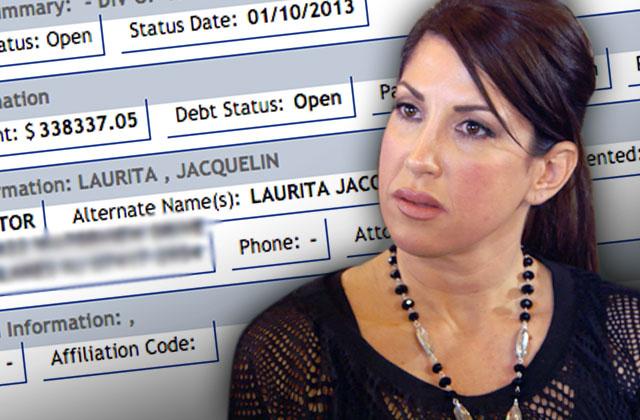 Jacqueline Laurita admitted she's slowly crawling out of debt on The Real Housewives of New Jersey but RadarOnline.com can reveal that she's still nearly $340,000 in debt!
A clerk at the New Jersey State Judiciary confirmed to RadarOnline.com exclusively that Laurita, 46, owes $338, 337.05 in state taxes. The original lien was filed on January 10, 2013.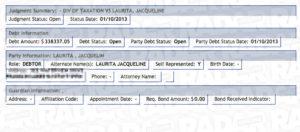 Article continues below advertisement
"The difference in income took a few years to catch up to us," she explained. "The last couple of years were very difficult to juggle everything. We cut back where we could. We have some catching up to do, but we never gave up. We have been working hard, and we are well on our way."
"Teresa trying to bring up my husband's legal issues involving his old company that was forced into a corporate bankruptcy in comparison to her and Joe's criminal case was totally ludicrous to me," she slammed.
Article continues below advertisement
"I had always talked openly about my husband's company bankruptcy," she insisted. "Go back and watch Season 4 reunion to see where I brought it up and talked openly about it! There was no reason for Teresa to ask me questions about it, because I told her and everybody else I knew everything I knew about it. The point that I was trying to make by saying that Chris and I didn't file a personal fraudulent bankruptcy — besides that being true — was the difference that I had to find out about Teresa's legal issues and the possibility of her going to jail through a tabloid...that she may or may not have put out herself! Had I put my business in the media and it was as bad as hers and I had never said anything to her, I'm sure she would have asked me about it! If not, I would have felt insulted."
Are you shocked by Laurita's financial woes? Tell us in the comments!