'You All Ganged Up On Me!' Teresa Giudice SLAMS Frenemy Jacqueline Laurita & Reignites Their Feud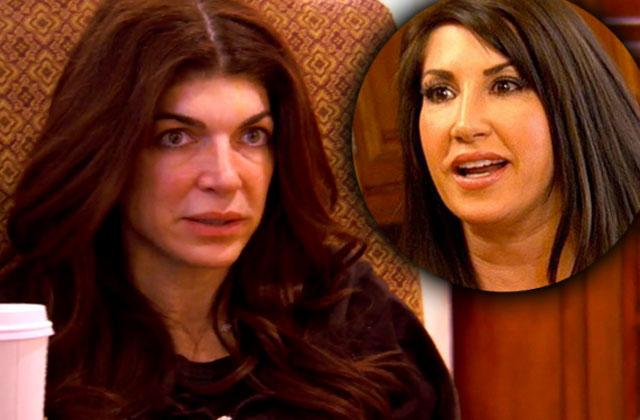 Melissa Gorga's kids may be walking in New York Fashion Week, but her sister-in-law Teresa Giudice stole the spotlight again in this week's Real Housewives of New Jersey episode!
Giudice finally came head-to-head with frenemy Jacqueline Laurita — and their "new beginnings" quickly came to an end.
The newly released jailbird and her husband Joe arrived to the Laurita household ready for dinner, but stormed off before the first course was served.
Article continues below advertisement
The show cuts to the ladies' notorious 2011 conversation where Laurita confronted Giudice over her legal battles — and finally Giudice hurled in the present day that, "you all ganged up on me!" Laurita slams back that Giudice needs to stop blaming everyone else for her problems, and just like that, their feud is back on.
Giudice quipped that her brother Joe told her to not be friends with Laurita — causing her to go ballistic in her own home. She immediately calls him, but hangs up when he's too confused to even remember his name.
Regardless, Laurita continues to prep the dinner — even as Giudice continues to fight.
"I never asked you about your legal troubles," she quipped, to which Laurita responds that she "didn't have a criminal case." Giudice becomes furious, and has her husband leave immediately with her — much to Laurita's delight.
Meanwhile, Dolores Catania is busy with her dog, Boo. It's time to put Boo down, and Catania feels the need to talk to her family about putting him down — leading to her new nickname, "The Grimreaper."
Article continues below advertisement
Siggy Flicker is dealing with her phone-obsessed daughter Sophie, and asks Laurita for help getting through to her after she got her second detention for phone use.
Ashlee Holmes gets involved, telling Sophie she never wore makeup at her age, as if that was any help. But, Flicker still felt the need to take things into her own hands, and took Sophie and her brother Josh out to the diner to talk about what's going on their house. Her kids finally approached her about her helicopter parenting, and Flicker broke down out of guilt.
At the same time, Antonia, Gino and Joey Gorga are getting ready to strut their stuff on the runway, and their parents are trying to figure out how to fix their relationship with Giudice.
Joe suggests that Melissa tell his sister to "shut up" when things are getting rough, but she doesn't think that's the best approach and chooses to focus on her adorable kids instead.
Giudice decided to support her brother's kids on their big night, and brings the ever-hilarious Milania with her. She confesses she wanted Milania to walk too, but she seems genuinely happy for the Gorga kids.
The happy family even goes out to dinner afterwards — where little Joey declares that he "loves everyone at this table" — and all is right in Jersey again.
Tune into RHONJ Sunday nights at 8 p.m. EST on Bravo.