Experts Weigh In On The Controversy Surrounding Howard Stern's Hair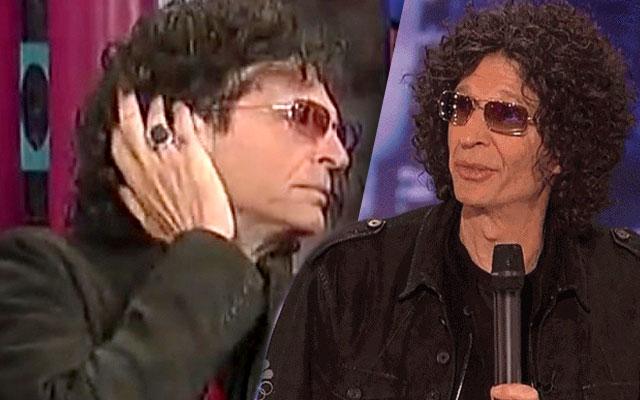 While Howard Stern's mouth has earned him legendary status in radio, much speculation about the King of all Media in recent years has centered on what's on top of his head, as many skeptics taunt him over the authenticity of his curly black locks. With that in mind, RadarOnline.com takes an in-depth look at the superstar shock jock's past words on the topic, and speaks with experts in an effort to answer the question: Does Howard wear a wig?
Article continues below advertisement
Listener Backlash
In recent years, Stern's hair has inspired endless message board threads, tweets, YouTube parodies and phony phone calls from listeners on online forums such as Dawgshed and Reddit. The Private Parts star addressed the irritating barbs on his June 23, 2014 broadcast after a listener identifying himself as Andrew Johnson said he would present Stern with a check for $250,000 if he would let him come into the studio and pull on his hair. Stern took a hostile tone with the listener — calling him a "f**khead," "r**ard," and "c**t" — but did accept the challenge, saying he would pass the money onto his charity of choice, the North Shore Animal League. After Stern's producer Gary Dell'Abate announced that the caller had hung up — and they would not be able to take him up on his challenge — the radio star opened up on the endless ribbing he's taken from those who think his locks aren't the real deal.
"I get Andrew and his buddies on my Twitter account all of the time calling me 'Wig man' and 'Wig boy,' and saying that I wear a wig ... and I know they're high-fiving each other ... I guess they're enemies of mine, they're angry with me," he said. "They seem to have a very hostile attitude toward me and they write, 'You wear a wig, we know it! Why don't you admit it?' And I don't know what to do with that — I'd admit if I had one ... that doesn't really bother me that much. Let's say I do .... but I don't, I would feel weird wearing a wig, or any kind of hairpiece." He continued, addressing the skeptics, "It seems to be a big thing with them, to say that I wear a wig, but I don't know why that's the thing. So this is big for them … let's say I do wear a wig, why do you want to expose me?"
Article continues below advertisement
A good question, and one RadarOnline.com tries to answer with a look back into the radio legend's archives.
'The Wig Thing Is Going To Make Him Crack'
In recent years, Stern has admittedly "evolved" from the shock jock persona that made him a household name, the radio rebel whose brand of racial, sexual and counter culture comedy made him the first disc jockey to be number one in New York City and Los Angeles simultaneously, en route to successfully syndicating his show nationwide. And while the former America's Got Talent judge has carved out a family-friendly image and a spot at the dinner table among Hollywood's elite, he's continually badgered by a dissatisfied segment of the audience using his old tactics against him.
Stern certainly used said tactics in his battle with Charles Grodin, the TV personality and actor of Midnight Run and Beethoven fame. Amid a 10-year war of words in the media, Stern relentlessly hammered Grodin, frequently discussing how he believed the actor wore a wig. In one instance, he dispatched former intern Steve Grillo to ambush Grodin in an on-the-street interview, asking him questions such as: "Has anyone ever complimented you for having a nice wig? Have you ever tried drinking Rogaine? Do your kids know you're bald?" In a segment replaying the interview, Stern boasted, "I've got all my own hair, Charles Grodin wears a wig ... we're outing him; we won't be satisfied until that wig is off! He has got to take that wig off and let us see him without that wig ... he's got to let it shine!" When Grodin complained about the ambush exchange with Stern's underling, the King of All Media defended his practices in saying, "He's a public figure, his wig is a private citizen!" He later said, "I guess the questions were hurtful, it bothered him ... he's gotta get over it, he needs help, he needs psychological help, the wig thing is going to make him crack." Stern then encouraged his audience, "Wherever you see him from now on, just ask him wig questions ... just constant wig questions."
Article continues below advertisement
Another victim of Stern's past wig-shaming was the late Wally George, the father of actress Rebecca DeMornay and conservative commentator known for Hot Seat, his cult-favorite public access show that aired in Southern California in the 1980s. In one cringeworthy segment from the early 1990s, Stern battered George over his estrangement from DeMornay, his unhealthy appearance and how he believed George's white comb over hairdo was actually a toupee. "Oh be still, you wig-wearing hump! What do you look like under that wig? How bald are you? Let me pull it off, let me pull that toupee off ... I hope they pull your wig off right on TV," Stern told George, who shot back, "It's my hair, pal!" Stern responded, "It's probably chemotherapy, he looks like he's in some shape." The King of All Media continued the aggressive approach during George's Nov. 19, 1997 appearance on his show. After George (who died in October 2003) told him about how he was battling cancer and blood clots on his brain, Stern said, "I told you, you're a loser, you're almost off the planet ... how much cancer do you have through your body, when can we expect you off the planet? I always thought you looked unhealthy, seriously." Of course, Stern again brought up how he believed George wore a hairpiece, asking him, "What about your wig, do you still wear that?" The right-wing George shot back, "I've never worn a wig," after which Stern launched into a tirade, in jest, about his hypothetical plans following George's death. "Let me tell you what I'm going to go to your grave: I will dig you up, and I will laugh some more at your head. I will hold your head in my hands and I will pull off your hair, because your hair won't decompose!"
'Howard Doesn't Want Us Mentioning His Name In The Hair Loss Show'
While Stern clearly has shown he can dish it out when it comes to other people's hair, whether he can take it is a different story — just ask Spencer Kobren, an author, radio host and founder of the American Hair Loss Association. Kobren, a consumer advocate who's been featured in media ranging from The New York Times to WebMD to 20/20, explained to RadarOnline.com how one mention of Stern's hair almost caused his then-station to drop his show after some behind-the-scenes maneuvering coming from the King Of All Media's camp. Following up on a story he initially told on The Andrew Zarian Show, Kobren revealed how "Howard tried to get me kicked off the air" in 2002, when he hosted a syndicated hair loss-based radio show that was broadcast out of Los Angeles on Stern's then-FM affiliate, KLSX. Kobren told RadarOnline.com that a female caller, who claimed she worked in the same New York City building that housed Stern's former station K-Rock, reported unusual details she noticed "on more than one occasion" while riding in the elevator next to the radio icon. "She was like, 'There's something going on with his hair, I'm telling you, in a certain light, you can see scalp,' and she actually said she thought she saw some netting or something," Kobren said, adding that in the caller's opinion, "That wasn't his hair." Dubbing the caller's comments as "hearsay," Kobren said the woman's remarks "sparked an interesting conversation, we started taking more calls and the segment turned into talking about Howard Stern's hair, or lack thereof, if that in fact is the case." (Kobren said that he never offered his own opinion on Stern's hair, as he hasn't met him, and that he wouldn't out a celebrity he believed to getting some extra help on top.)
Article continues below advertisement
"Apparently someone from his camp listened to the show at the time," Kobren said, recalling how station management had told him that Stern producer Gary Dell'Abate had called and complained that "Howard is pi**ed that we were talking about his hair loss on the air." Management's reaction? According to Kobren, "We got a call, and basically we were told we can't talk about Howard's hair, Howard doesn't want us mentioning his name in the hair loss show and basically we were warned if it continued, then I wouldn't be able to air the program through" the Los Angeles station. Kobren said he found the edict "comical, initially, to some degree and … a little hypocritical," noting, "I am doing a hair loss show on an FM talk station that's syndicated, what are we supposed to talk about?" Kobren said that "whatever it is, whatever the situation was, there's obviously some significant sensitivity ... if you think about what we were discussing, there's nothing that I think would be objectionable for Howard's people to call KLSX and say that we can no longer mention his name on my show."
'I Thank God For My Head Of Hair'
Stern explained how he inherited his hair on his March 11, 2014 broadcast, in an interview with Florida-based hair transplant surgeon Dr. Alan J. Bauman about the growing trend of beard transplants. In the exchange, Bauman asked the King of All Media, "What about that hair on your head? It's been amazingly thick and full, what's your secret?" Stern explained, "My grandfather, my grandpa Sol had full black hair, he used to slick it back — and I look just like him — and he had full, jet black hair until he was in his 80s, and then when he was 90-something, it turned gray. And he had a big thick head of hair, and I think I got lucky, that's my mom's dad." When Bauman asked Stern about his father Ben's hair loss, Stern replied, "My dad's bald, I always just figured I'd be bald, but it has nothing to do with the dad, someone told me it's your mother's father." He continued, "I don't know, but I thank God for my head of hair, it's just so great, because I have such a f**ked up face, it's great." (The remarks mirrored those Stern made to Piers Morgan in a January 2011 interview, in which he said was was "very lucky" that his "big bouffant" was all-natural. "I have my own hair, I do not color it, I'm very blessed," he said. "I swear on a stack of bibles that I don't color my hair." When Morgan gave Stern a gentle tug on the coif, the radio star said, "Don't get too frisky!")
Article continues below advertisement
Watch the video on RadarOnline.com
When Bauman told the radio legend, "Your hair is cause for a lot of debate here ... the debate is if it's real or not," Stern acknowledged the remark with a confused pause, and the interview went on without further speculation. But the topic surfaced again on the radio program following Stern's, The Wrap-Up Show, in which producer Gary Dell'Abate and host Jon Hein both defended the authenticity of their boss's 'do. "I know for a fact: That is 100 percent his hair. I can swear on the life of my kids, I've been with Howard for 30 years, I would know if his hair was thinning," Dell'Abate, famously nicknamed "Baba Booey," said. "I know for a fact that is actually his hair — to hide that from us, he couldn't hide that from us, that he made some weird transition to a wig, it's impossible!" Hein said Stern was "annoyed by" Bauman "asking ... about his hair, because everybody asks Howard about his hair, he's answered it 1,000 times, and Howard seemed to get a little annoyed by him pressing him on him a bit." Hein took up for the radio legend, not understanding why people can't take him at his word. "People find it so hard to believe that he has a such a thick head of hair and that it's so dark," Hein said. "His grandfather — he said this 1,000 times — had a full head of hair like that and then it went gray, and he still didn't lose his hair. Now his father lost his hair, but that doesn't necessarily mean anything, because a lot of times it comes from your mother's side, but nobody wants to accept that, they feel that there is a conspiracy, that Howard is not telling the truth."
'I May Have Struck A Chord There'
RadarOnline.com caught up with Dr. Bauman, who hasn't treated Stern as a patient, to inquire about his testy exchange with the radio host, and get his expert thoughts. "I had the opportunity to talk with him ... of course I'm going to ask him about it, it seemed to defy the laws of nature so I want to know what's going on there," Bauman told RadarOnline.com exclusively, adding that "there was no question that the interview kind of changed tone" after he brought up the hair issue to Stern. "I could tell that he distanced himself from the interview with me after that point, and it's all fine and good, I may have struck a chord there."
Article continues below advertisement
When asked about the previously-mentioned skepticism surrounding Stern's mane, Bauman said, "I think the chatter out there is that maybe that his hair doesn't necessarily match up with his age, and it does seem to be a bit inconsistent, at times, that wouldn't be just necessarily be related to styling alone." The doctor pointed to Stern's September 2012 appearance on David Letterman's Late Show as further fuel for the naysayers. "He kind of pushed his hair back with his hand, and you could kind of see that where he pushed his hair back, that there was a significant difference between the hair that was below — weak, thin and wispy — and the hair that was above, which was like super-thick and curly. There was definitely some difference there, in that photo that I saw ... I'm assuming, people are noticing that his hair is … a little bit static, and maybe hiding something."
Asked if he thought Stern might have some artificial help with his coif, Bauman told RadarOnline.com, "I can't say for sure, I'm not his physician, I haven't had a chance to examine his scalp in person. If he wants to use something artificial to portray that appearance, then he should just come out and say that that's what he's doing, and people should get over it." Bauman said that if Stern admitted to help with his hair if he's getting it, he'd serve as a role model to the "millions and millions of people out there, men and women, who struggle with hair loss every day and are affected by it." He added, "As every celebrity chooses their causes and comes out about things that afflict the average everyday person, they just become more real ... Howard's got a thick skin, I'm assuming, so what would be the big deal? Just own up to it, own it."