Exclusive
'Dazed' Heather Locklear Sparks Concern Over Her Shocking Appearance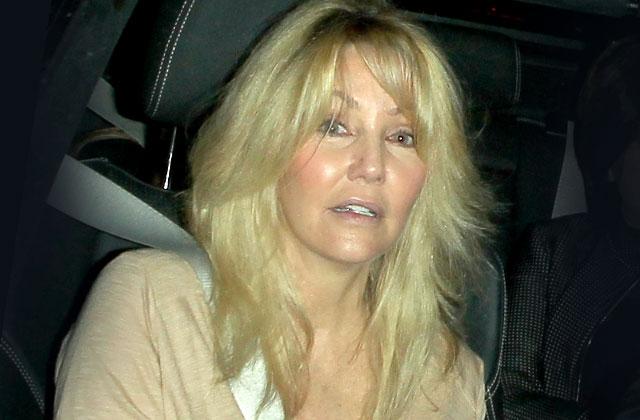 Heather Locklear startled shoppers at an upscale mall when she looked "puffy-faced and out of it" while running errands with her assistant.
"I couldn't believe it was really her!" an eyewitness who spotted the 54-year-old former Melrose Place star at The Commons at Calabasas in California on July 29 told RadarOnline.com.
"Heather looked tired, bloated and unkempt," noted the onlooker. "She had a dazed look on her face with dark circles under her eyes and a large gash on her nose."
Article continues below advertisement
"She just seemed out of it," continued the witness. "I overheard her telling her assistant, 'No, I'm OK, I'm fine,' as they walked to the car."
"Everyone's concerned about Heather because of her history with booze and drugs," said another source. "One problem in her life could push her over the edge."
The former Dynasty beauty checked into rehab in 2008 after a bender of prescription drugs and alcohol. That year she was also charged with driving under the influence of prescription drugs, but pleaded guilty to reckless driving. She landed back in rehab in 2010, and in January 2012 her sister called 911 from Locklear's home after the actress reportedly downed a cocktail of pills and booze. Locklear was admitted to a psych ward, and treated for "intense stomach pain" and "severe distress."
According to Dr. Judy Rosenberg, CEO of Psychological HealingCenter.com — who has not treated the actress — Locklear's history of drug use and abuse "puts her at risk of overdosing or committing suicide by overdose."
Locklear's plastic surgeon boyfriend of three years, Dr. Marc Mani, split after she posted suggestive photos of her with ex-husband, Mötley Crüe drummer Tommy Lee.
And Locklear's engagement to soap hunk Jack Wagner also went up in flames in 2011, reportedly sending her into depression.
Article continues below advertisement
On another troubling note, her family has a history of suicides. In 1986, Locklear's 27-year-oId cousin shot himself with a handgun, and when she was just 16, an uncle committed suicide.
Despite the concern, a source close to Locklear assured RadarOnline.com that the actress is fine, insisting: "The scab on her nose was from a pimple. It was nothing really. She's healthy. She's been playing a lot of tennis lately. There's no need to worry."
Still, others aren't so sure.