Say Cheese! The Best, Worst & Most Hilarious Celebrity Mug Shots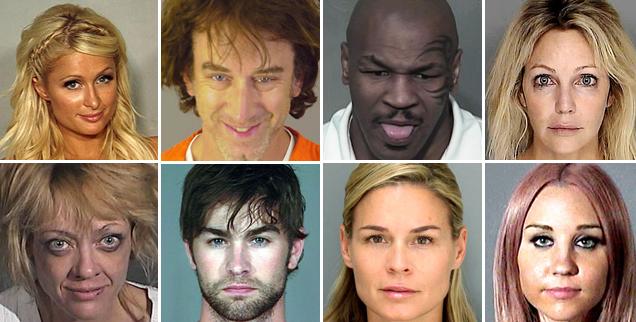 Not every star is camera ready – especially right after they get arrested!
Just because they are rich, famous and privileged, doesn't mean that Hollywood's biggest celebrities are immune to the dreaded mug shot after they get busted breaking the law -- and not all of them look picture perfect in their booking photo. In Part 1 of our special celebrity justice feature, RadarOnline.com has photos of the best and worst celebrity mug shots!
Article continues below advertisement
Everyone was shocked when Nickelodeon star Amanda Bynes got busted for an alleged DUI in April 2012 after hitting a cop car, and was snapped in the police station showing off her bright pink hair!
We are used to seeing Melrose Place beauty Heather Locklear looking flawlessly faced and drop dead gorgeous, but after her arrest for driving under the influence of a controlled substance, the iconic blonde beauty wasn't exactly looking super hot.
Paris Hilton loves hamming it up for the cameras, and her Las Vegas mug shot was no exception! The blonde heiress was glowing in her 2010 snap after getting busted on the strip with then-boyfriend Cy Waits for having cocaine in her purse, which she initially claimed wasn't hers, but later accepted responsibility as part of a plea deal.
Lisa Robin Kelly looked barely recognizable from her That 70s Show days when she was busted and booked on charges of corporal injury upon a spouse in 2010.