Exclusive
Tragic Ending! Heartbreaking Details Emerge Of Frank Gifford's Passing –– How He Died REVEALED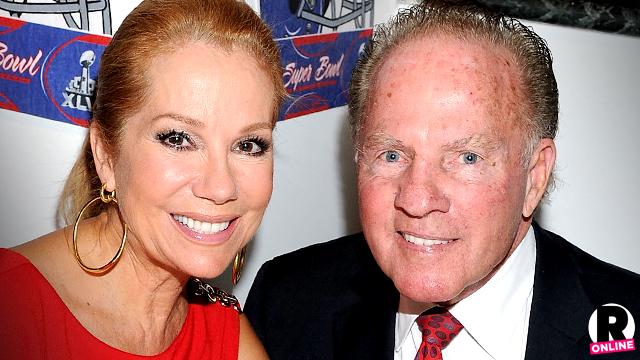 UPDATE: Kathie Lee Gifford updated fans on her status early Tuesday, in the wake of her husband Frank's death. The TV star tweeted she was "in tears now, not from grief, but from reading all the incredibly kind and moving messages you are sending to me and my children ... Blessed!! And may God richly bless each of you in return. #grateful."
Football legend Frank Gifford died suddenly on Sunday, August 9, at his family home in Greenwich, Connecticut and a source close to the family opened up to RadarOnline.com exclusively about his final moments.
Article continues below advertisement
According to the insider, Frank, who was one week shy of turning 85-years-old, was found in the home by his wife of almost 30 years, TODAY Show host Kathie Lee Gifford.
The source claimed, "Frank actually died of a sudden heart attack."
A law enforcement source in Greenwich, Connecticut, confirmed the presumed cause of death to RadarOnline.com but would not do so officially. The source said, "Under Connecticut state law medical information is classified and will only be available to the public if the family consents."
The Chief Medical Examiner in Greenwich, Connecticut, told RadarOnline.com, "Frank Gifford's death was not reported to us because it was not a traumatic incident. If he died from natural causes, such as a heart attack, it would go through his doctor. The only other way that she would have information about his condition is if it were going to be a cremation, which it is not."
As RadarOnline.com previously reported, Kathie Lee paid tribute to her late husband in a message relayed on the TODAY Show by co-anchor Hoda Kotb.
Article continues below advertisement
"I was holding her hand, and she said, 'A 4-year-old girl having cancer is a tragedy.' She said Frank lived to be almost 85. She said he lived an incredible life, has an incredible family and an incredible legacy. She said his life is a triumph."
Frank is survived by wife Kathie Lee, as well as five children— daughter's Cassidy and Victoria, as well as son's Cody, Jeff and Kyle Gifford.
They released a statement after his death that read, "Frank died suddenly this beautiful Sunday morning of natural causes at his Connecticut home. We rejoice in the extraordinary life he was privileged to live, and we feel grateful and blessed to have been loved by such an amazing human being. We ask that our privacy be respected at this difficult time and we thank you for your prayers."