Diane Kruger 'Caught Cheating' On Joshua Jackson With Costar Norman Reedus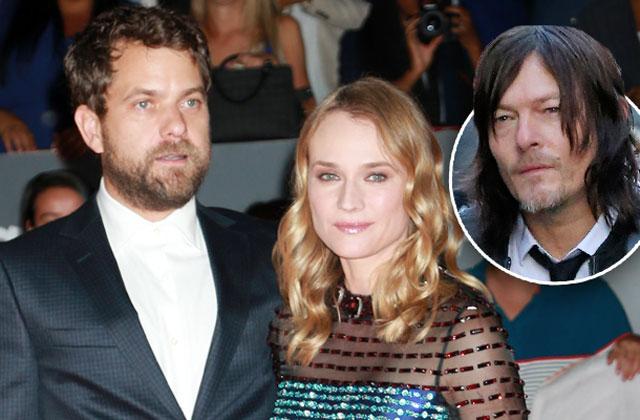 Look out Joshua Jackson, you may have some competition.
While The Affair actor, 37, was busy filming a project in the Philippines this weekend, his longtime girlfriend Diane Kruger, 39, was spotted getting hot and heavy with Sky costar –– a film which also starred Jackson ––Norman Reedus, a recent report claims.
According to witnesses, Kruger and Reedus, 46, arrived in East Village dive bar 12th Street Alehouse on Friday around 1:30 a.m., where the actress ordered vodka and her Walking Dead companion opted for whiskey.
Article continues below advertisement
But then, sources say, things became romantic between the two.
"They were laughing and having fun and then she just literally got out of her chair and straddled him and we were all like, 'what the hell,'" an onlooker told the New York Daily News. "They were all over each other. She was a lot more aggressive than him."
Meanwhile, Jackson was busy enjoying paradise on the beach in Manila, captioning a recent photo on Instagram: "Home sweet home for the next couple days."
Kruger and Jackson began dating in 2006 and have remained one of Hollywood's favorite couples.
Though the German-born actress said marriage wouldn't likely be a part of their future as neither actor is "particularly religious," the dynamic duo has maintained a stable relationship for nearly ten years –– or so they say.
In a recent interview, Jackson revealed that while their relationship isn't "always easy," it's been a partnership worth having.
"I understand at 37 better than I ever did at any other time in my life what the phrase like, 'Love's labor' really means," he told PEOPLE magazine. "It's work, but it's work that rewards itself many times over."
According to the Daily News, Reedus' rep denied that the pair was kissing while Kruger's rep declined to comment. Likewise, Jackson did not respond for a request to comment.