Yolanda Foster Clashes With Taylor Armstrong On RHOBH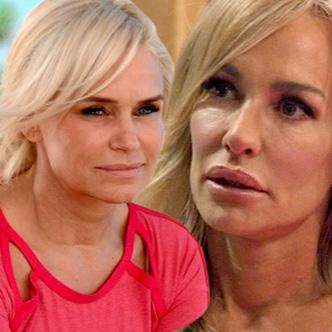 Article continues below advertisement
At one point, the Holland-born beauty pulled Taylor aside and said, "You know, I wanted to ask you ... I hear from all the girls in the group that you have an issue with me -- do you know anything about it?"
Taylor, not breaking stride, smiled as she said, "No … what issue would I have with you?"
"I heard it like three times," Yolanda said, "so I figured tonight I have to bring it up."
Taylor, in an off-camera interview, said she didn't get into detail with Yolanda because the get together didn't "feel like the right time" for a pow-wow. She admitted the tension with Yolanda isn't so much about Yolanda, but that Yolanda's husband David Foster was once married to her good friend, Linda.
Kyle told Yolanda about the connection at the party, though she already knew, as Yolanda told Kyle that Taylor's friend told her husband David "that she still loves him, and wishes they were still together."
Not missing a beat, Yolanda said, "Obviously Taylor is lying about the tension, so I plan to just wait for Taylor to gather the courage to come to me and say what she thinks."
On her Bravo blog Monday, Yolanda said she'd hoped she could smooth issues over with Taylor because "trash talk is poisonous and a bad habit.
Article continues below advertisement
"Even though I don't believe we can or need to all be best friends, I still feel we need to look each other in the eyes and be honest," Yolanda wrote. "Maybe if Taylor had taken the time to have a coffee with me, she might have liked me before she wasted her precious time not liking me.
"I just realized she is now trying to make it about my husband. Geez, she doesn't even know my husband so she is judging him on whatever his ex-wife has told her …
"Well Miss Taylor, remember there are always three sides to a story. His, hers, and the truth, so maybe get the other two-thirds of the story before you let your mouth run on someone you don't even know!"
Watch the video on RadarOnline.com
We'll see how things progress between Yolanda and Taylor when The Real Housewives of Beverly Hills returns on Bravo Monday at 8/7c.