Why David Letterman Has A 'Bone To Pick' With Kate Upton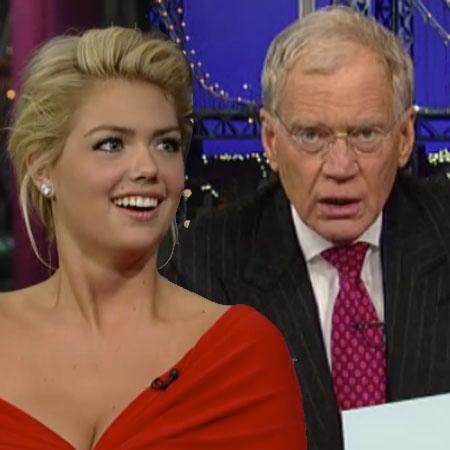 David Letterman welcomed sexy Kate Upton on The Late Show Tuesday, where the two discussed Kate's chilly shoot for the magazine in Antarctica, and if she's keen toward turning her attention to the silver screen in the near future.
When Dave asked Kate, 20, if she's interesting in parlaying her success toward acting, she said she's content being a supermodel for now.
"I feel like I'm still young and still have a few more years," the St. Joseph, Mich. said, adding she had "so much fun" appearing in last year's remake of The Three Stooges.
Article continues below advertisement
Kate, whose uncle is Michigan Congressman Fred Upton, said she initially learned she'd be on the cover for the second straight year on Twitter.
Letterman, showing Kate a copy of the issue, ribbed her, "I have a bone to pick with you. OK, right here on the top what does it say? Swimsuit Issue."
"Right," she said, to which Letterman showed her a shot in which she's wearing ONLY a scarf.
"No swimsuit, no swimsuit!" said Letterman, to which Kate replied, "It's more appropriate for the Antarctica shoot because it's a scarf!"
Watch the video on RadarOnline.com
"It doesn't say 'Scarf Issue!'" Letterman cracked back.
Kate said she got so chilly in Antarctica, "I'd be frozen, because I'm naked, trying to change, and I literally couldn't move my leg, so the editors would have to pick up my legs and put them into my next outfit."
Letterman cracked back, "Whoa, now there's a job! How do I get that job?"
Kate said she's currently "getting ready to go to Vegas to celebrate" her second straight year on the cover.