Evolution Of A Bombshell! Kate Upton's Scandalously Sexy Rise To Fame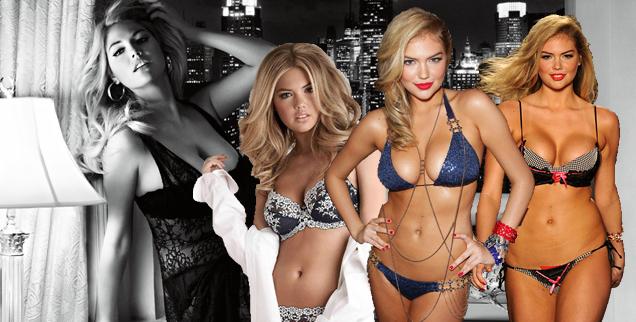 Kate Upton is certainly making a name for herself!
Since landing the coveted cover of the Sports Illustrated Swimsuit Edition in 2012, Kate's career has accelerated faster than a Lamborghini – and she doesn't seem to be slowing down anytime soon.
The 20-year-old sex kitten, who started out modeling bikinis and lingerie, is infiltrating herself into the high-fashion world as well as the movie industry, and is not only rumored to be getting her own cover of American Vogue, but just signed with top theatrical agent Ilene Feldman (who reps Ryan Gosling and Angelina Jolie.)
Article continues below advertisement
Want more dish on the busty blonde? RadarOnline.com has 7 fun facts about her scandalously sexy rise to fame!
1. She May Be Boobiful And Sexy, But She's From A Good Family! Born in Michigan and raised in Florida, her uncle Fred Upton is the Congressman for the Sixth Congressional District of Michigan and her great grandfather, Frederick Upton, was the co-founder of Whirlpool Corporation. Kate attended Holy Trinity Episcopal Academy and was an avid equestrian in her youth.
2. She Modeled Her Way To The Top Early On! Kate, who signed to Elite Model Management when she was 16, has an impressive resume. Before becoming a household name, Upton snagged coveted modeling gigs with Guess, Beach Bunny and Victoria's Secret.
3. The Girl Can Dance! She attended a Los Angeles Clippers game in April 2011 and wasn't bashful about busting out her dance moves doing the popular dance The Dougie. The video went viral almost immediately, and has amassed millions of views.
Article continues below advertisement
4. Sports Illustrated Swimsuit Edition Was Her Big Break! Kate first appeared in the sexy issue in 2011, getting named Rookie of the Year, but it was in 2012 when she snagged the cover that people really started paying attention to her.
5. Her Love Life Is Steamy, And She Loves Athletes! After she was rumored to be dating Mark Sanchez, the busty beauty found love with Detroit Tigers pitcher Justin Verlander. The pair were recently spotted vacationing together over the holidays in the Caribbean.
6. Kate Got Banned On YouTube! After making a scandalously sexy video with Terry Richardson in April 2012, where she did the Cat Daddy and danced provocatively in a skimpy bikini, she grabbed even more headlines when the video was yanked from the popular site.
7. She Is Surpassing Her Swimsuit Model Status! Most posers who get their start as swimsuit models never break into the high fashion world, but Upton has surpassed industry expectations and appeared in several high-fashion magazines and is even rumored to be getting a Vogue cover.