Ellen Grills Kate Upton If She's Dating Mark Sanchez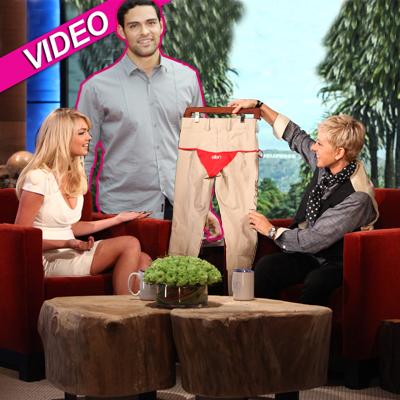 On Thursday's Ellen DeGeneres Show, Sports Illustrated Swimsuit covergirl Kate Upton plays coy with a prying Ellen over whether or not she's dating one of New York's most eligible bachelors, hunky Jets quarterback Mark Sanchez.
After Upton told Ellen she did not have a Valentine's date this year, Ellen continued the barrage of questions trying to confirm the hook-up. She asked Upton of her star-making turn on the magazine cover, "So how does your boyfriend Mark Sanchez feel about all this? He must be proud, right?"
Article continues below advertisement
Upton cooed, "Well, even if I had a boyfriend. I wouldn't ask how he felt about it."
Kate Upton: 7 Things You Don't Know About The Sports Illustrated Cover Girl
Ellen shot back, "He would just tell you though. Has he told you? Your boyfriend Mark Sanchez? I'm just guessing that it's him. Is it him?
"Do you want it to be him?" Upton asked Ellen, who said she did because she thinks the signal caller is "cute."
Upton did confirm she's met the underachieving quarterback "briefly," as her sister has actually worked for the team for four years and she attends all of their games.
Again, Ellen asked, "How long have y'all been dating?"
"I don't know what you're talking about," the 5-foot-10 Michigan-born stunner teased.
Ellen proclaimed, "She's dating Mark Sanchez!"
As we previously reported, Upton was crowned with the coveted front page Monday on The Late Show with David Letterman, complete with the unveiling of the cover on a billboard in New York City's Times Square. Her cover marks her second appearance in the magazine in as many years, as she was the annual's 2011's rookie of the year.
Article continues below advertisement