Former Victoria's Secret Model Accuses Industry Of Promoting Deadly Eating Disorders & Exploiting Young Girls By Making Them 'Sell Sex'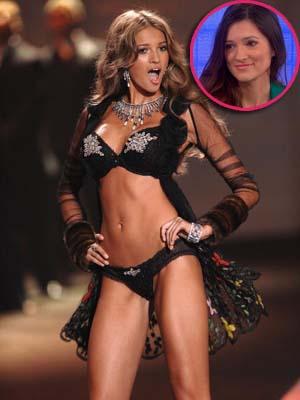 Article continues below advertisement
"It definitely felt like I was being made to sell sex," Kylie, who lives with her husband in Montana and volunteers at her church, explained to Savannah Guthrie. "I just really started to feel exploited and sexualized."
Kylie, who started modeling as a teen and got her big break when she won the lingerie contest, spent several years struggling with maintaining a painfully thin figure that pleased her agents.
"There was intense pressure on me and many models around me to be incredibly thin," she recalls. "I went as far as doing crazy crash diets to lose the weight after my agency called me fat and told me that I needed to lose weight off of my thighs and hips. I did very unhealthy things to lose the weight, but I was told if I didn't do it I wouldn't book jobs and become successful."
However, the more successful she became, she began to see how toxic the industry really was.
MORE ON:
Victoria's Secret
Article continues below advertisement
"As I saw more and more girls collapsing after runway shows, hospitalized because of eating disorders I realized it wasn't just my experience, it was everyone in the entire industry."
"I believe that the modeling industry as a whole really exploits young girls," she continued. "I'm just thankful that God changed my heart earlier on rather than being five or 10 years down the road runway modeling and lingerie modeling."
Kylie, whose new memoir about her journey, I'm No Angel: From Victoria's Secret Model to Role Model, was released on Tuesday, was recently slammed by Victoria's Secret, who said she made "numerous fabrications and misstatements of fact regarding her brief association with Victoria's Secret," defended her book to Guthrie.
"My book is really not about Victoria's Secret. It's about the modeling industry as a whole and about helping girls with self-body image issues, eating disorders and really exposing the entire industry for what it is. It's not targeting their brand," she explained.
Despite turning her back on what could have been a long and successful career as a catwalk strutter for a life as "Proverbs 31 wife," Bisutti has no regrets.
"I felt total peace about my decision, and now I'm the happiest I've ever been in my entire life. I don't regret any decisions."
Visit NBCNews.com for breaking news, world news, and news about the economy