Victoria's Secret Slams Model-Turned-Christian Kylie Bisutti For Lying, 'She Was NEVER An Angel~'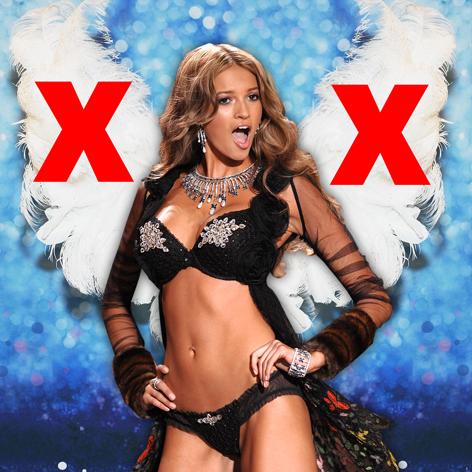 Kylie Bisutti may have won the Victoria's Secret Angel Search in 2009, but the lingerie company wants to clarify something: she was never an Angel!
After opening up to the New York Post this week about the horrors of the modeling industry, revealing some traumatizing incidents that happened while she was stripping down for the famous bra and panty empire, Victoria's Secret is slamming the former model, claiming that she is lying – and RadarOnline.com has the details.
Article continues below advertisement
"Ms. Bisutti has made numerous fabrications and misstatements of fact regarding her brief association with Victoria's Secret," the company declared in an official statement on Friday.
The former poser, who quit modeling and now lives as a "Proverbs 31 wife" in Montana with her husband, shared several stories about her gig modeling for Victoria's Secret, including how executives tried to get her to "get together with" a celebrity whose eye she caught, and how she was asked to play down her marriage so that she could "flirt with everyone all the time."
"In 2009, Ms. Bisutti won an online amateur modeling competition and hasn't worked for us since that year. The prize for the winning contestant was the unique opportunity to a one-time walk in the 2009 Victoria's Secret Fashion Show. Ms. Bisutti also participated in a swim photo shoot in 2009. That was the extent of Ms. Bisutti's involvement with Victoria's Secret."
Bisutti, who retired from modeling two years after winning the competition, is publishing a book titled I'm No Angel: From Victoria's Secret Model to Role Model slated to be released in May 2013, but the company claims she doesn't deserve to call herself that!
Article continues below advertisement
"She was never a Victoria's Secret 'Angel' as defined by the terms of our Angel model contract," the statement continues. "And contrary to Ms. Bisutti's claims, she was never offered any subsequent modeling contracts or opportunities with Victoria's Secret despite her multiple appeals for further work. She has repeatedly fabricated her work experience with Victoria's Secret – including a relationship that simply did not exist."
Who do you believe? Sound off below.