Vicki Gunvalson Cries How She's Being 'Pulled' Between Daughter, Love Interest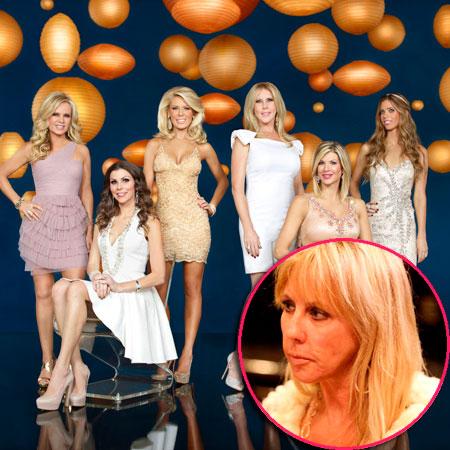 Vicki Gunvalson's been trying to maintain a delicate balance as her love interest, daughter and son-in-law are pulling her in opposite directions, and the woman Andy Cohen calls "The O.G. from the O.C." came apart at the seams under the extreme pressure on Monday nigth's episode of Real Housewives of Orange County.
As we previously reported, the Coto de Caza, Calif. native has opened her doors to her daughter Briana Wolfsmith-Culberson, Briana's marine hubby Ryan, and their baby son Troy as of late.
Article continues below advertisement
Ryan has made clear he's not comfortable with Vicki's on-again, off-again beau Brooks Ayers coming by, which led to an uncomfortable dinner between Vicki and her suitor on Monday's episode.
Vicki, who showed up in a fancy fur coat, was understandably upset when Brooks told her he's been seeing other women, a decision he claimed was easy to make after Vicki let her daughter and son-in-law begin dictating terms of their relationship.
"I'm not gonna kick my daughter out," Vicki told Brooks, who said in response, "If they lived in my house, they'd live by my rules."
"I feel like I'm being pulled," Vicki said, gesturing as if she were a puppet. "I love my daughter, I love my son-in-law, and I love you -- I've loved you since the day I saw you!"
At that point, the reality star began sobbing in the restaurant, unsure of what direction to take in the complicated situation.
Watch the video on RadarOnline.com
We'll see how this uncomfortable family spat progresses when the Real Housewives of Orange County airs on Bravo next Monday at 9/8c.