Tamra Barney Forgives But Never Forgets! Blasts Vicki Gunvalson For Spreading Lies & Horrible Rumors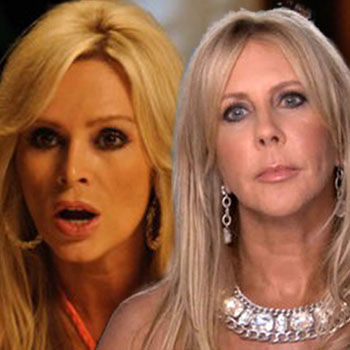 Tamra Barney is willing to give their friendship another try, but she refuses to forget the past and all of the awful things that Vicki Gunvalson has done to her.
After this week's emotional episode of The Real Housewives of Orange County, where the feuding former friends attempted to hash out their differences, Barney has taken to her Bravo blog – and RadarOnline.com has the details.
"My friendship with Vicki was in a bad place for many months," she admits. "I really did miss her but I needed time to get over everything that had happened."
Article continues below advertisement
Barney maintains that a lot of things happened after the infamous party at Heather's house last year -- things that were not aired on television. Tamra says Vicki tweeted "horrible rumors" about Eddie and his career that were "complete lies" and also sent her a "very nasty email" that was extremely hurtful.
"Eddie is not use to all this drama between friends and has a hard time understanding this show. Eddie is basing his opinion off his own experience with Vicki and not what happened at Heather's party." Tamra wrote. Eddie has NEVER done a thing to Vicki and he did not understand why she would spread such vicious rumors about him? Now you know why he was so opinionated when he was talking to me in the kitchen."
Tamra insists that her wine cellar chat with Vicki came straight from her heart and that she never had any intention of trying to break up her relationship with Brooks.
"I want her to be happy with who ever she is dating," she insists. "Truth is I probably would have never voiced my opinion about Brooks if he had not started that fight about the evil eye."
At the end of the day, Tamra maintains that she only wishes the best for her "friend," but is realistic about the fact that they will continue to feud.
We're certain that you can count on that!