Vicki Gunvalson Slams Tamra Barney & Gretchen Rossi: Their Friendship Is So Fake!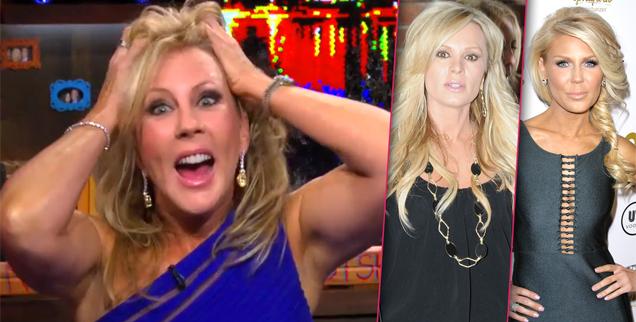 Real Housewives of Orange County star Vicki Gunvalson didn't hold back on Bravo's Watch What Happens Live, slamming her co-stars Tamra Barney and Gretchen Rossi, and RadarOnline.com has the clip.
On the season premiere of the hit show Monday night, Vicki debuted her "new face" - having had tweaks to her chin and nose - but was mocked by Tamra and Gretchen who said her new look was too masculine.
So when one fan called in to Andy Cohen's show after the premiere asking what Vicki thought of Tamra and Gretchen's friendship, the 51-year-old mother of two let viewers know exactly what she thinks.
Article continues below advertisement
"It's so fake! It's crazy. Oh my God, it's so fake. It's very fake," Vicki exclaimed.
"It's crazy, it's so fake. I think they just did it to bug me."
Vicki, who was likened to Jim Henson's Muppet character Miss Piggy by Slade Smiley during his standup routine, said she got the surgery to build up her self-esteem.
"So seriously, I have to show you something," Tamra said to Gretchen during the premiere episode of RHOC. "I just want you to look at this picture and tell me what you think."
"Look at the chin…look at the nose!" Gretchen exclaimed.
Also on Watch What Happens Live was Flipping Out star Jenni Pulos who is known for making up funny raps on the fly, and dedicated one to Vicki.
"So some say that you used to look like Miss Piggy, but I don't think so nor did you look like jiggy," Jenni rapped.
"You are the OC, you are the OG, you are Vicki G and you look pretty."
Tune in to the Real Housewives of Orange County Monday nights on Bravo to see how Vicki's friendship — or lack there of — with Tamra and Gretchen plays out.