Vicki Gunvalson Clears Up Briana's Living Situation, Ryan's Security Cameras, & Her Relationship With Brooks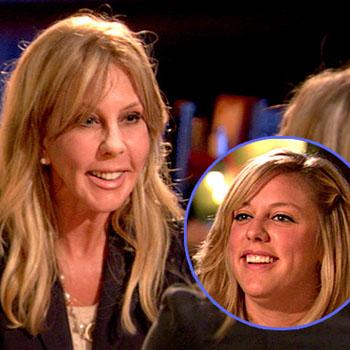 Orange County housewife Vicki Gunvalson and her daughter, Briana Wolfsmith-Culberson, both took to their Bravo blogs to address a myriad of issues that hit close to home -- literally, in their case -- and we've got all the details for you right here on RadarOnline.com.
In Vicki's new entry, she tackled a number of the show's hot topics -- including why Briana and her marine hubby, Ryan, are moved in under her roof.
Article continues below advertisement
She said the young couple's search for a home was interrupted by Ryan getting deployed to Afghanistan, "so I offered them to move in to my home for a while to be able to be there to help with the baby once it was born."
While the charming Vicki stressed the situation was "only temporary," she said she felt fortunate to have daily contact with her daughter and grandson.
"Briana and I have never been closer, and I cherish these times we have together," she wrote.
Briana echoed her mother's sentiments, saying that her son Troy "has allowed me to feel more empathetic for my mom and how amazing she is as a mother … if I'm half as good of a mom as she is, then I'll have done something right."
The Coto de Caza, Calif. native clarified her comments about Ryan's security cameras -- that he's "watching her all the time" -- saying she feels extra safe and secure with the added surveillance.
Article continues below advertisement
"I thank Ryan for thinking so much of us," she wrote, "that our protection while he is gone was his priority."
As far as her on-again, off-again beau Brooks Ayers -- and Ryan's insistence he doesn't come over -- she said she's willing to go along with the idea "to avoid fighting" with he and Briana -- as well as give little Troy a sense of consistency early on in life.
Briana put her twist on the situation, saying her "only concern with moving back home … was that I didn't want whomever my mom was dating to be coming in and out of the house with the baby and I living there, because I want a stable, positive environment for Troy."
She added that the decision was mutual, as she told Vicki "on Day 1, 'If you feel like I'm getting in the way of your life or your relationship, give me the word and I will happily get an apartment down the street, no argument!'"
Briana explained why Brooks puts her off so strongly, saying that she and her husband have had "shocking experiences we've had with Brooks within the past year.
"Ryan and myself have both had interactions with Brooks that made us question his character and his intentions with my mom," Briana wrote. "Ryan quickly adopted the same kind of worry for my mom regarding her dating life.
"Ryan spent a lot of time one on one with Brooks and saw some red flags regarding his behavior behind my mom's back."
As for Brooks, Vicki referenced his character, saying she knows who he is "more than anyone, and he's not the guy that Ryan thinks he is.
"Although I appreciate my kids being protective over me," she wrote, "there is a fine line about going overboard."
The Real Housewives of Orange County airs on Bravo Mondays at 8/7c.