'Who The F**k Are You?' Tommy Lee's Son Shares Threatening Post For Dad On Father's Day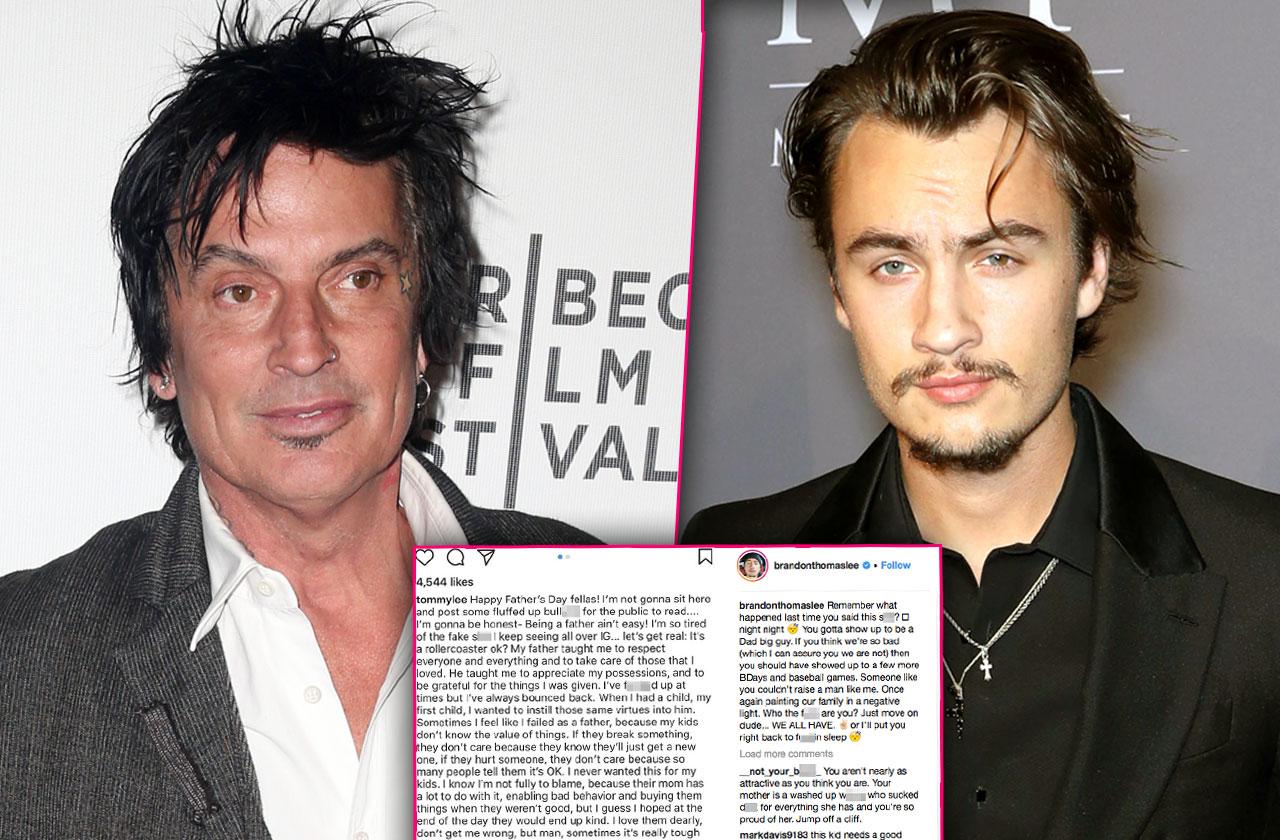 Brandon's revealing photo post came after the rocker, 55, shared a scathing Instagram post about the difficulties of being a father and raising "a**hole" children.
Article continues below advertisement
"Happy Father's Day fellas! I'm not gonna sit here and post some fluffed up bullshit for the public to read.... I'm gonna be honest- Being a father ain't easy! I'm so tired of the fake sh*t I keep seeing all over IG... let's get real: It's a rollercoaster ok? My father taught me to respect everyone and everything and to take care of those that I loved. He taught me to appreciate my possessions, and to be grateful for the things I was given. I've f**ked up at times but I've always bounced back," Tommy wrote.
"When I had a child, my first child, I wanted to instill those same virtues into him. Sometimes I feel like I failed as a father, because my kids don't know the value of things. If they break something, they don't care because they know they'll just get a new one, if they hurt someone, they don't care because so many people tell them it's OK. I never wanted this for my kids. I know I'm not fully to blame, because their mom has a lot to do with it, enabling bad behavior and buying them things when they weren't good, but I guess I hoped at the end of the day they would end up kind," he added.
Article continues below advertisement
As RadarOnline.com readers know, Tommy is a father to sons Brandon and Dylan, 20, whom he had with ex-wife Pamela Anderson, 50.
Pamela has openly defended Brandon in his feud with his father, telling her fans that Tommy is an alcoholic "disaster" and she will always stand by her son.
Continued Tommy in his post: "I love them dearly, don't get me wrong, but man, sometimes it's really tough to watch your kids grow up without those morals. Nothing can really prepare you for fatherhood .... I love my boys but they can be a**holes too...and that's the truth (Cue Honest Guy music)."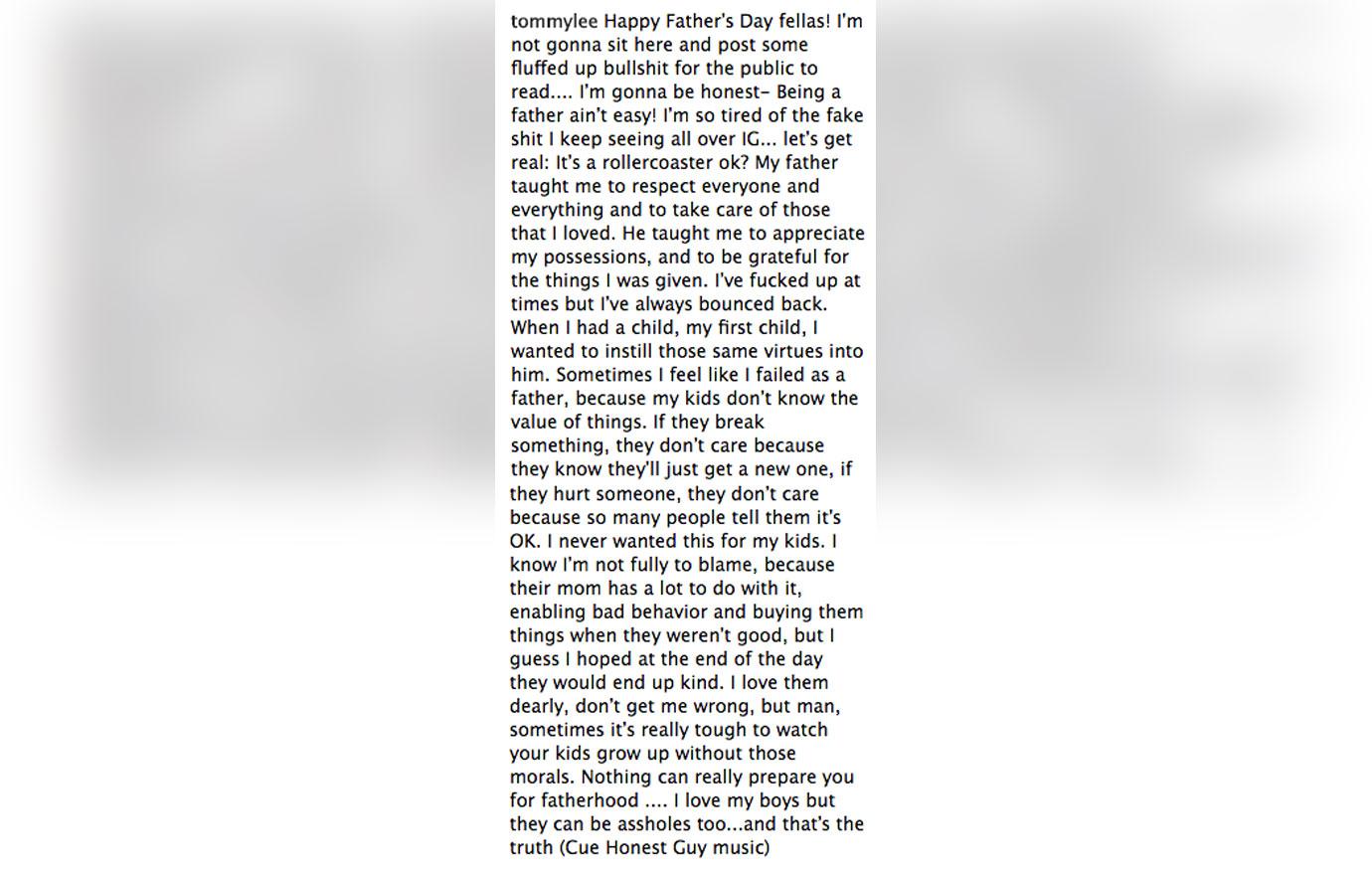 Reading his estranged father's shocking message, Brandon responded with a vicious statement of his own.
"Remember what happened last time you said this s**t? night night," he wrote, alluding back to the time he punched Tommy after a verbal argument.
As RadarOnline.com previously reported, Brandon allegedly attacked his wild dad after he posted a shocking photo of his mother, Pamela. At the time, Brandon told his fans that his dad suffers from alcohol abuse and has been troubled for years.
Article continues below advertisement
"You gotta show up to be a Dad big guy. If you think we're so bad (which I can assure you we are not) then you should have showed up to a few more BDays and baseball games. Someone like you couldn't raise a man like me. Once again painting our family in a negative light. Who the f**k are you? Just move on dude... WE ALL HAVE," concluded Brandon. "Or I'll put you right back to f**kin sleep."
Will Tommy Lee and Brandon Lee's family feud ever end? Let us know your thoughts in the comments below.
We pay for juicy info! Do you have a story for RadarOnline.com? Email us at tips@radaronline.com, or call us at 800-344-9598 any time, day or night.