Here's Why Tina Fey & Amy Poehler Were Asked Back To Host The Golden Globes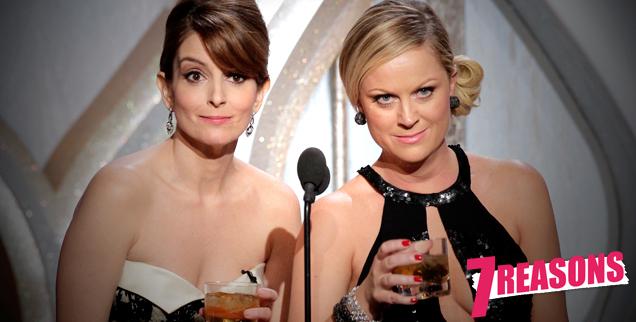 With Tina Fey and Amy Poehler signed on to host the Golden Globes for the next two years, we took a look at what persuaded the Hollywood Foreign Press Association to ink the these two funny ladies to the extension.
7. Why Not?
After the talented tandem received rave reviews following their 2013 outing, the HFPA understandably didn't want to turn in a winning hand, especially in a day and age where the host can make, break or steal the show. Ricky Gervais did just that at 2011s Golden Globes, while on the flip-side, the Oscars have taken hits in recent years for mismatched, incompatible 2011 pairing of Anne Hathaway and James Franco; and a 2012 performance from Billy Crystal some pundits dubbed as antiquated.
Article continues below advertisement
Watch the video on RadarOnline.com
6. They Were At Top Of The List
HFPA president Theo Kingma said Fey and Poehler "have always been our first choice as hosts, and we're delighted they are back for the next two years." NBC's Paul Telegdy added, "Tina and Amy are two of the most talented comedic writer/performers in our business and they were a major reason the Golden Globes was the most entertaining awards show of last season."
5. Chemistry
The two longtime comedic colleagues clearly have great working chemistry after years side-by-side on SNL, riffing off another's punchlines with perfect timing. In one foreshadowing sequence, Fey joked that Gervais was no longer hosting the show "because he is no longer technically in show business." Poehler joked, "We want to assure you we have no intention of being edgy or offensive tonight, because when you run afoul of the Hollywood Foreign Press, they make you host this show two more times!"
Article continues below advertisement
Watch the video on RadarOnline.com
4. The Bits
Amy and Tina brought about a lightheartedness to the serious, stuffy proceedings in 2013, with the inclusion of a few bits, such as the one in which they heckled presenter Neil Patrick Harris from the audience, clad in sunglasses, chowing down on popcorn. "Take your pants off and twerk it!" Poehler barked at NPH, while Fey foreshadowed Miley Cyrus' excalibur moment by telling the TV star, "I come to award shows for the twerking."
Watch the video on RadarOnline.com
3. It'll Give Taylor Swift A New Heartbreak To Write About
A little controversy never hurts in show business, and the ladies drummed one up last year when they joked that Swift — whose high-profile love life has made plenty of tabloid headlines — shouldn't try to date Michael J. Fox's son Sam (after the Family Ties star himself made an offhand remark in an interview). Swift was upset by the dig, repurposing an oft-used quote that "there is a special place in hell for women who don't help other women." Fey brushed off the barb, claiming hers "was a lighthearted joke."
Article continues below advertisement
Watch the video on RadarOnline.com
2. Fearless Funnies
While Swift didn't find the ribbing humorous, she was the only one to publicly grouse about being a walking punchline for Fey and Poehler. The ladies, like their hosting predecessor Gervais, didn't hold back when it came to lobbing big shots at some of Hollywood's heaviest players, such as Meryl Streep and former President Bill Clinton, who Poehler referred to as "Hilary Clinton's husband."
Watch the video on RadarOnline.com
1. Ratings, Ratings, Ratings
With huge crossover audiences from Fey's 30 Rock and Poehler's Parks and Recreation, and Saturday Night Live for both, these women bring a hybrid of comedy and celebrity that draws eyeballs on the tube, as last year's broadcast garnered its' biggest ratings in six years. Who can possible forget Fey's dead-on Sarah Palin impersonation, which cemented her place on TV's A-list.
Watch the video on RadarOnline.com