The Bachelor Finale: Who Did Sean Lowe Pick?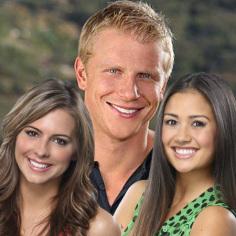 Sean Lowe made his decision between Catherine Giudici and Lindsay Yenter on Monday's two-hour season finale of The Bachelor, and we've got all the details right here on RadarOnline.com.
SPOILER: Who Did Sean Choose?
Catherine received the final rose of the show's 17th season, as the hunky blond insurance agent proposed to the graphic designer in the romantic finale in Thailand.
"I think the world of you, and I miss you every time we have to say goodbye," the Dallas, Texas native told her. "I don't want to say goodbye anymore. Catherine, I want to spend the rest of my life telling you, 'I love you,' and making you feel like the most special, beautiful woman in the world."
Article continues below advertisement
"Catherine, will you marry me?" Sean asked, whipping out a 3-carat Neil Lane diamond ring.
She replied, "Is this for real? I'm so happy ... I am so grateful to have met somebody like you … I've never been so comfortable about myself and with somebody."
As for the agony of defeat, Lindsay took the rejection hard, understandably, as she couldn't make Sean's final cut. He told her choosing Catherine over her was "the hardest thing he's ever had to do."
A dejected Lindsay told him, "This is just really, really painful -- this is my nightmare -- I really didn't see this coming.
"I'm happy for you. I'm happy that you found love. But I honestly can't imagine my life without you and that's something that I'm going to have to figure out."
Watch the video on RadarOnline.com
The episode wrapped up with a shot of the happily-engaged couple trading kisses while riding an elephant through the jungle, with Catherine having a Titanic moment, proclaiming, "This is the coolest day of my life!"