Terra Claims Troubled Ex Co-star Briana Blocked Her Amid Divorce & Sex Abuse Scandal
Terra Jole has claimed that her troubled ex Little Women: LA co-star Briana Renee blocked her and changed her number amid Briana's divorce and sex abuse scandal.
In an exclusive RadarOnline.com interview, Terra said, "I reached out to Briana twice, but Briana has blocked me on all of her social media and she changed her phone number, so there's that."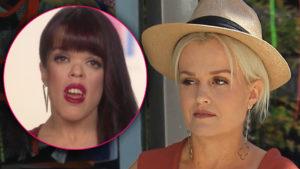 Terra, 38, noted, "I don't want to beg for a relationship. I simply wanted to reach out to her and after all of us heard that she was going through a divorce and everything Matt had done, I think everybody just wanted to be there for her."
Article continues below advertisement
As readers know, Briana's estranged husband Matt Grundhoffer allegedly sexually assaulted a minor patient while working as a counselor in Washington in 2009.
Grundhoffer has admitted to sexual communications with the alleged victim while he was married to Briana, according to a bombshell court filing exclusively revealed by Radar.
Briana's estranged spouse claimed the young woman sent him pictures of herself "topless" and in "underwear." Grundhoffer admitted he sent her "naked" photos through Facebook and sexted the alleged victim.
Mother of two Briana, 36, got a restraining order against Grundhoffer during their nasty divorce.
Now, her former co-star Terra is rooting for Briana and wants her to come back to the reality show!
"I would love if Briana would come back. I think that it's hard to be in this world again because also our relationships are different with the other girls and it's hard to come back but yeah I would totally invite her presence back on the show," she said.
"Everyone wants a good comeback story and I feel she's a great comeback story. She went through a really s****y relationship with a d*****b** of a husband. No offense, well actually, all offense," Terra smiled.
"I just feel like, now she has her moment to shine. Now she has her moment to be who she feels Briana really is, rather than being attached to somebody who was dragging her down."
A new episode of Little Women: LA airs tonight on Lifetime at 10 pm et.