Teresa & Joe Giudice: We Won't Let Gorgas Raise Our Kids If We Go To Jail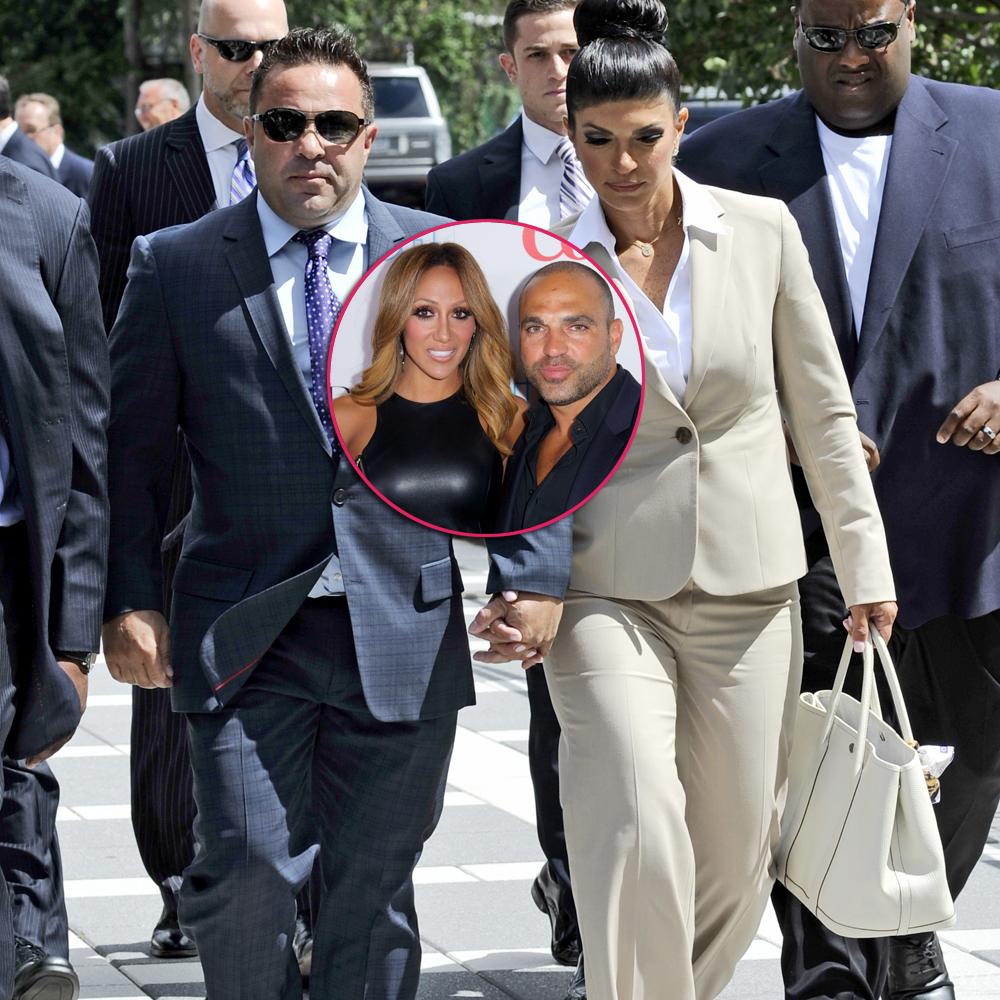 Real Housewives of New Jersey stars Teresa and Joe Giudice insisted they were innocent of the 39 fraud charges against them in an explosive interview with Andy Cohen on Sunday night's Watch What Happens Live.
And in a shocker that shows their family feud with Teresa's brother Joe Gorga and his wife Melissa is alive and well, Joe said his in-laws haven't been supportive -- and would NOT be called on to raise the Giudice children if Teresa and her husband have to serve jail time!
Article continues below advertisement
Then, when asked if Teresa's brother and his wife had been supportive during the Giudices' indictment scandal, Juicy snapped, "Not really."
He said they phoned "here and there."
Watch the video on RadarOnline.com
Teresa interjected, "They called. But Andy, there's nothing that anybody could do."
As far as where the kids will go if the worst happened, Teresa insisted, "I'm not thinking about that right now.
Article continues below advertisement
"I'm focusing on just staying positive, being a mom."
Andy began the special Watch What Happens Live episode by telling viewers they couldn't go into certain areas because of legal constraints.
After the Bravo host read the laundry list of charges against them that could result in 50 years in prison, however, the couple opened up.
"I'm sad. I can't believe this is happening to us," Teresa said.
"I feel like this is a dream. I have to be strong for my husband and my children. I'm trying to do the best I can."
Joe told Andy he was surprised by the charges.
When asked if he knew something was coming down, however, Juicy Joe admitted, cryptically, "There was talks but we didn't know exactly what was going to happen."
Once the charges were filed, Andy pointed out, the couple didn't stay out of the spotlight. In fact, they continued to do public appearances and take vacations.
"I'm not crawling under a rock and hiding. That's not me," Teresa said. "The day we go to court and resolve this, everyone will see who Joe and I really are.
Article continues below advertisement
"I'm not just running away," she said.
Joe added, "We pleaded 'not guilty' for a reason, because we're not guilty."
"If we were guilty, we would have pleaded," the reality TV husband said.
"There's no reason for us to plead. We're just going to stay positive and keep our chins up and keep moving," he said.
Their RHONJ castmates "have all been very supportive," Teresa said.
According to the housewife, their oldest daughter, Gia, 12, knows there is something going on and that "Mommy and Daddy are going to fight this and she's good with it."
When Teresa said Gia is unaware of the specific charges, Joe chuckled, "I don't even know what half the charges are. I don't understand all that stuff, but whatever.
"If I wasn't on the show, nobody would care," Joe said.
But he can't undo his time on RHONJ.
"Whatever is done is done," Joe said.
Teresa said despite her high-spending housewife image, she's worked since she was 14.
"I've always been a hard worker. I'm a hustler," she insisted.
Article continues below advertisement
Teresa said she still wants to be on RHONJ despite the legal case "and I hope the women in the cast give me respect."
"I can't speak about legal issues," on the show, she explained.
On the Bravo talk show, Teresa told Andy she never got involved in her husband's finances.
What was her reaction to the 39 counts of fraud?
"I feel like I'm numb to it," Teresa said.
"We have accountants and lawyers. We hire people to do all the stuff," Joe said, implying the two got roped into something by their advisors.
"I have an attorney and we're going to fight this," Teresa said.
"We're good people. I don't know why it's happening to us," Teresa said.
Andy challenged her, pointedly asking if she felt it was something done TO them.
"It's just strange to me," Teresa said. "Now I have anxiety. I wake up in the middle of the night. I used to sleep like a baby. Now I do have sleepless nights."
Teresa said she didn't have nightmares about possibly going to jail, however, and has chosen to think positive.
Article continues below advertisement
"I'm the rock for this family," she said. "I can't break down."
Joe said the New York City driver's license legal mess he's also involved with has nothing to do with the feds coming after them.
But he added, "It all stemmed from the DUI I got which I wish never would have happened.
"To tell you the truth, I wasn't even drunk. The times I should have been charged, I wasn't.
"The one time I really wasn't drunk, I got charged. What are you going to do? When I was driving on revoked license, that was the first time I ever went to jail. I'd never been in jail before."
During his week in jail because of the driving charge, Joe said, "I cleaned tables, mopped the floors, worked out all the time just to keep busy.
"You meet interesting people in there."
When Andy asked Joe about not being a U.S. citizen, Joe improbably replied, "Yes, I am. I have a green card. I'm a legal resident. I just never went and applied for my citizenship."
Joe isn't going to worry about being deported, and told viewers he was born in Italy and moved to the U.S. when he was only a year old.
Article continues below advertisement
Talking about their alleged lavish lifestyle, Joe said, "We've never lived beyond our means. I'm a businessman. I make money."
Joe said he doesn't mind his wife spending it, either.
"You can't be on a show and wear the same thing twice," he said.
In another startling comment, Joe admitted their fiances started being investigated a few years ago.
The charges carry maximum of 50 years in prison, but Joe seemed confused, thinking it was 100!
"It's fifty all together, hon," Teresa said. "That's what they say in the magazines."
After Andy said he got emotional hearing about their problems, Teresa said, "I can't fall apart, Andy. I have my daughters and they mean the world to me."
She wiped a tear away and pursed her lips.
When asked if she could survive in jail, Teresa replied, "I don't even think about that. I haven't done anything.
"I'm not in denial. I never even knew I was this strong.
Joe told his wife, "I think you're much stronger than your brother."
Teresa asked Andy if he had the charges and he read her a list of them.
"Did you do any of that?" he asked.
"No," Teresa said.
She confirmed their trial is set for February.