Say It Isn't So! Snooki Wants More Children To Preserve Her 'Good Genes'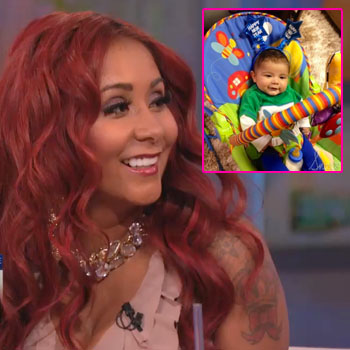 Next stop -- world domination?
Not content with creating one little mini-me, Nicole "Snooki" Polizzi wants to have even more children so that her self proclaimed "good genes" live on long after she has hung up her skin-tight florescent dresses.
When asked how many kids she wants by Anderson Copper on his talk show Tuesday, the former Jersey Shore star replied: "Like ten. No, I want four and I want them to have my genes because I feel I have good genes," she said, revealing that parenting is much easier that she imagined.
Article continues below advertisement
"I thought it was going to be hard but it's actually awesome and amazing. I can't wait to have more kids," said 25-year-old Snooki, who gave birth to son, Lorenzo Dominic LaValle, last August.
Excited as she is to continue breeding with fiance Jionni LaValle, Snooki wants to wait at least until their home makeover is completed before adding more little Guidos and Guidettes to the family.
"Whenever my house is done. I would have the baby right now but I can't have two kids in the basement, right?" she asked Anderson.
As for walking down the aisle – that will have to wait too!
"Hopefully sometime next year. It's all depending on our house , we have to build our house first," she told Cooper. "I can't wait to get married. I am in love with Jionni. Plus, I want Lorenzo to be in the wedding so it's going to be really cute."
Notorious for her curvy figure, the pint-sized reality star claims to have lost a whopping 42-pounds post pregnancy.
Article continues below advertisement
"I've been busting my butt in the gym. I go like every single day. I have the most amazing trainer ever, he's like a juice head. He has like big muscles and I was like, 'I want muscles like you,' so he gave me muscles," she told Anderson.
"I'm still a meatball, I feel, just a slender one I guess!" Polizzi added with a laugh.
Anderson Live is a nationally syndicated talk show, visit for local listings.