Madonna Trash Talks The Boy Scouts For Not Allowing Gay Members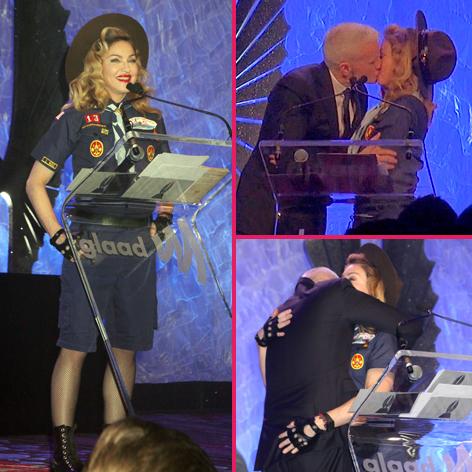 Madonna showed up at the GLAAD Media Awards Saturday night dressed as a Boy Scout of America but it wasn't for laughs.
The singer tackled the Scouts' policy of not allowing openly gay members.
"I wanted to be a Boy Scout, but they wouldn't let me join," Madonna said from the stage. "I think that's f**ked up.
"I can build a fire. I know how to pitch a tent. I have a very good sense of direction. I can rescue kittens from trees. Listen, I wanna do good for the community.
Article continues below advertisement
"But most importantly, I know how to scout for boys. So I think that I should be allowed to be a Boy Scout and I think they should change their stupid rules."
Madonna was at the event to present the Vito Russo Award to CNN's Anderson Cooper. He returned the favor by giving her a big sloppy kiss on the lips.
youtube