Sharon Osbourne Rips Lady Gaga: You're A Bully & A Hypocrite!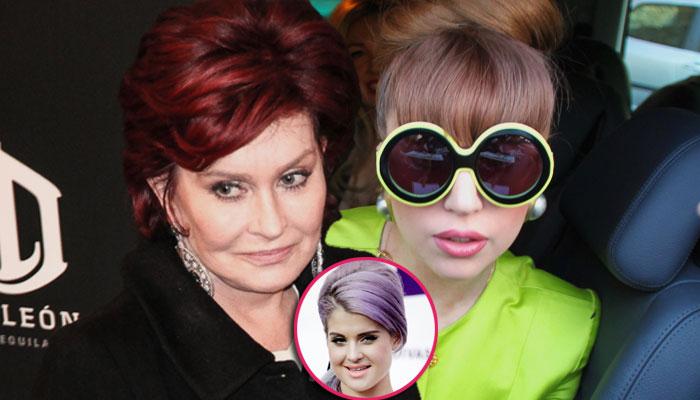 Don't mess with Sharon Osbourne – or her daughter Kelly!
The always outspoken matriarch of the Osbourne family is slamming Lady Gaga, calling the Born This Way singer a "bully" and a "hypocrite" after she openly criticized Kelly, who had speculated that the singer was pregnant after she gained weight.
Sharon published a blistering open letter to the Bad Romance singer on Thursday after Kelly and Gaga got into a war of words.
Article continues below advertisement
"I am calling you a bully because you have 32 million followers hanging on your every word and you are criticizing Kelly," Sharon wrote in her letter, asking, "Are you so desperate that you needed to make this public?"
The flap started when Kelly made comments about Gaga's weight gain late last year on a London television talk show.
Speaking to Channel 4's Alan Carr, Kelly, who was asked to comment on a photo of Gaga wearing a burka, said: "I think she is pregnant because she has been covering up this part of her body recently and I have been noticing that a lot.
"And her style has changed and you can't bleach your hair blonde when you are pregnant," she added.
Gaga's devoted 'little monster' fans responded angrily, slamming Kelly and even sending death threats, prompting Sharon to write the Paparazzi singer's manager, Vince Hebert.
In another yet email Sharon sent to Hebert on Thursday, she reminds him that she wrote last year about Gaga's fans bullying Kelly online and complains that he "never really responded.
Article continues below advertisement
"Well, it's continuing again. I want you to read the blog below from a Lady Gaga fan," she added.
Sharon then included a horrible tweet that included: "Kelly Osbourne needs to kill herself"
Sharon continues: "I thought that Gaga was a main campaigner against bullying.
"Vince, I'm leaving it in your hands to do the right thing here. One tweet from Gaga can change this whole situation. I'm not asking her to deal with this directly but she if she could tweet something to her fans about being more respectful that may end this. I'm sure she doesn't condone her fans saying such hideously offensive things," she added.
Hebert's response was short and sweet: "I'm on it," he wrote.
Gaga then posted an open letter on LittleMonsters.com, addressing Kelly and stating she wished the Fashion Police co-host had reached out to her personally.
"As the head of the Born This Way foundation with my mother Cynthia we would like to respond," Gaga wrote, explaining it's part of her mission in life to "work towards a kinder and braver world with our community of followers."
Article continues below advertisement
Gaga notes Kelly has "chosen a less compassionate path", and criticizes her work as a correspondent on E!'s Fashion Police, calling it "rooted in criticism, judgment, and rating people's beauty against one another."
"Your show breeds negativity, and over the years has even become comedic in nature. It glorifies you and Joan Rivers pointing in the camera, laughing, and making jokes about artists and celebrities as if we are zoo animals," she added.
In a reference to Kelly's impressive weight loss over the years, Gaga asks: "To see you blossoming into a beautiful slender woman who makes fun of others for a living is astounding. Why not help others? Why not defend others who are bullied for their image and share your story?"
Gaga notes she has met Kelly in person, calling her "lovely", and she asks that they both do their part do their part "to set a standard of respect, compassion, and love".
Article continues below advertisement
Sharon -- clearly not pleased with the singer's remarks -- responded with her own open letter on Facebook.
"I am perplexed as to why you would go public with an open letter," she writes, calling it "hypocritical and full of contradictions."
"How sweet that you have empathy for my daughter, as you feel that she has taken a less passionate path in life," she continues.
Sharon goes on to criticize Gaga's fashion choices, saying she was "sickened" by her infamous meat dress at the 2010 MTV Music Video Awards.
"When I see you wearing fur, and using it as a fashion statement, the fact that defenseless animals have been killed so you can get your picture in the press is abhorrent to me," she writes, asking, "Shouldn't you be teaching your 'little monster fans to respect animals and life?"
Sharon also refused to justify Kelly's career choices, and slams Gaga for making the issue public.
"By your actions to Kelly right now, you have shown me that you are nothing more than a publicly seeking hypocrite and an attention seeker. You know it would have been much more dignified of you to do this privately. I am calling you a bully because you have 32 million followers hanging on your every word and you are criticizing Kelly in your open letter. Are you so desperate that you needed to make this public?"
She continues: "In closing, stop wearing fur, stop looking for publicity, and stop using your fans to belittle not just Kelly but an endless stream of celebrities. A word from you would stop all the hideous, negative and vile threats from your "little monsters." Let me know if you want to continue this debate. I'm an open playing field for you my darling. Sincerely, Sharon Osbourne".