'Nagging And Complaining Isn't Going To Get Me To Where I Want To Be': 'RHOC' Star Shannon Beador Says Show's Helped Her Recognize Faults As A Wife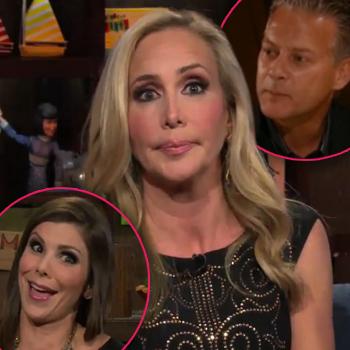 From Kris to Bruce Jenner, to Jon and Kate Gosselin, reality TV has ruined many a relationship, but at least one Bravolebrity, Real Housewives of Orange County star Shannon Beador, begs to differ.
Beador, whose marital problems with husband David Beador have made for a key storyline in her debut season on the hit, claimed on Tuesday's edition of Watch What Happens Live that being on the show has actually made her a better spouse, as the weekly reality hit serves as something of a living, breathing diary for her to learn from.
Article continues below advertisement
"I know it may sound crazy, but I thought it would be a great idea to be on the show to watch little clips of my life play back — I see things that I do well, and I see things that I have to work on."
Watch the video on RadarOnline.com:
Beador admitted "it's tough to watch" her relationship issues play out on the small screen, but she's been able to turn a negative into a positive by recognizing her foibles and working on them.
"I realize nagging and complaining isn't going to get me to where I want to be in my relationship with my husband," she said, adding, "I absolutely made an adjustment and it's been good."
As we previously reported, marital strife under the beauty's roof dates back at least a decade, as in 2003, David pleaded guilty to misdemeanor assault and battery against cohabitant after a fight with Shannon she claims never got physical.
Article continues below advertisement
In the appearance, Beador said her peace treaties aren't just limited to her husband, but her fellow housewives, most notably Heather Dubrow, who she's run afoul of at times during the season.
Watch the video on RadarOnline.com
"Absolutely we can be friends, I don't fight with women," she said. "I'm trying to get along with her, but at the same time if I don't agree with you, I'm going to voice my opinion."
Beador also took the occasion to enlighten fans on some of her habits -- in particular, when it comes to drinking.
"When I drink, I drink a shot of Grey goose and then I put up some Pellegrino in it, and I make about two or three drinks out of a shot," she said. "For everyone who thinks I'm drinking straight vodka all the time, I'm not; I'm actually diluting the drinks and I don't drink that much."
The Real Housewives of Orange County airs Mondays on Bravo at 9/8c.