Top-Secret Scientology Planning Session EXPOSED In Undercover Video: 'We're Going To Keep Doing These Battles... We Have To Win'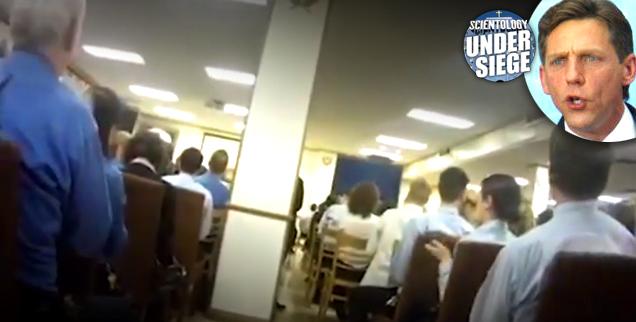 For years, the inner workings of the Church of Scientology were a closely-guarded secret known to those who lived and worked behind its doors. But over the past few years, former members have started to leak troubling information about what goes on in the controversial organization, and now comes the most shocking exposé yet: An undercover journalist secretly attended and videotaped a Scientology Sea Org meeting, capturing high-level Church officials ranting about the "battles" they "have to win" as the church continues to crumble.
Article continues below advertisement
The video shows a top-secret meeting of dozens of members of Scientology's elite Sea Organization. As a presenter discusses recent happenings in the church, the mood quickly turns serious as talk turns to promoting the religion around the world and gaining new members.
"We have many many more victories that we have to win. And we have to move those victories forward and get them won so we actually move toward a clear planet. We don't really have a choice on that. And we're gonna keep doing these battles."
Discussing a legal scuffle in Oregon in 1985, in which the church ultimately came out victorious after a former member sued them for fraud, the speaker continues, "The battle of Portland was pretty overt. The battles we're fighting now are maybe not quite so overt but they're still battles nonetheless."
"Like the battle to get people off drugs ..." the speaker continues, referencing Scientology's controversial Narconon program.
Article continues below advertisement
Then, the speaker launches into a fundraising pitch, insisting the church needs to raise $3.5 million imminently.
If church members don't want to donate, the speaker tells the audience not to take 'No' for an answer. "Everybody has money or access to it," she insists. "…people say they don't have money when they do."
"You've got to sit there," she says, "while we go online and look up all their credit cards so we can show them to you. So you can see that your people definitely have money."