Katy Who? Russell Brand Shamelessly Flirts With Katharine McPhee, Bounces Her On His Lap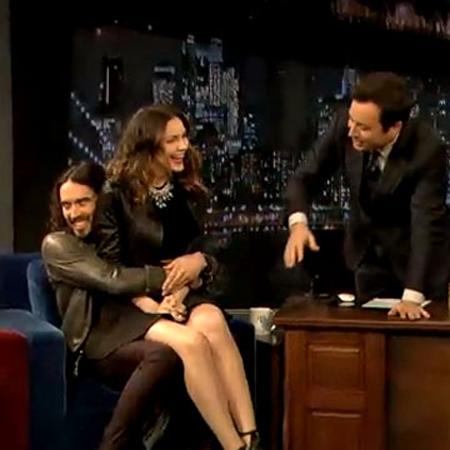 Randy Russell Brand, appearing on Late Night with Jimmy Fallon Monday, raised eyebrows when he suggestively bounced actress Katharine McPhee on his lap when she came out for her chat.
"I'll just be over here with my sexual charisma," the 37-year-old Brand joked to the Smash stunner, who said, "Oh my gosh … this is just too much for the first 30 seconds!"
The lanky comic added, "I find Katharine very attractive … I thought of things that I'd like to exchange with her … genetic info, data."
Article continues below advertisement
After the 28-year-old actress finally told the Get Him To The Greek star she was married (to producer Nick Cokas), he dropped a few lines before making his way off the stage.
"You could drop that guy any day … turn and face the change, ch-ch-ch-ch-changes … I didn't know you were married -- I'm gonna f*** off now," he said, walking off the show.
McPhee took the Brand's aggressive advances in stride, tweeting afterwards, "That was soooo much fun! And a little crazy too. Thank you for having me!"
Watch the video on RadarOnline.com
The new season of McPhee's show Smash premieres Tuesday 9/8c EST on NBC.