Foul-Mouthed Tamra Judge Rips Peggy Sulahian For Her 'Resting B***h Face'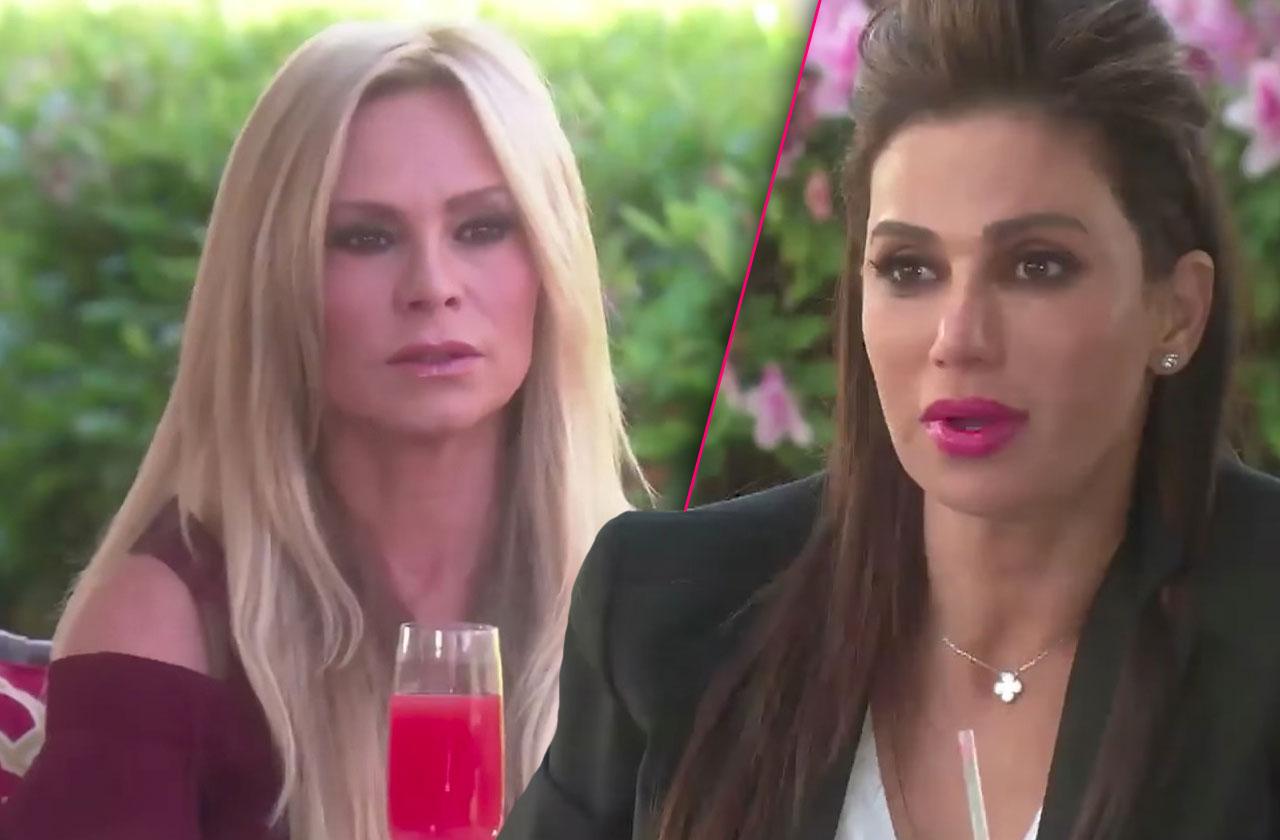 Article continues below advertisement
"Last night was a total weird experience really," she said about the Nobleman magazine party where she and Peggy Sulahain got into a catfight. "Peggy really came at me. As if I owe Vicki an apology? The look on her face was like her sh*t doesn't stink. The entire time she had a sh*t look on her face."
Eddie tried to calm down his wife. "Don't let this b**ch affect you."
"Who, Vicki? I don't let her affect me," she insisted, later admitting to the cameras, "I hate it when Eddie tries to solve my problems. I don't want to find a solution. I just want to vent!"
Peggy and Shannon met for a boozy lunch. Both downed vodka sodas with four limes and rehashed the fight with Judge.
"Tamra got into the car with me really upset. Did you get that?" Shannon told the newest housewife, who dismissed Tamra's anger. "We're adults. Call me!"
Shannon tried to warn Peggy about Vicki, telling her: "Vicki needs friends in her life right now. I just say to you to be careful."
The women then discussed Peggy's double mastectomy, but Shannon just wound up confused. "Did Peggy have cancer or did she not have cancer," she asked after Peggy told her the test for the gene was "negative," but then explained "My mom died of breast cancer. I got a mammogram. Then they detected things with the MRI. They didn't find anything."
Article continues below advertisement
Peggy voiced her affection towards Vicki, who offered her support when she found out about her mastectomy.
"The sincerity that Vicki showed to me was 100 percent," she said, later addressing the Brooks Ayers cancer scam and defending Vicki: "She loved that man, she was going to be sticking up for him."
A stunned Shannon couldn't understand Peggy's kindness toward Vicki. "She lied about cancer and lied about him. She lied for months. When I finally said 'I can't believe you lied,' I'm a horrible person."
She warned Peggy: "Don't make any criminal allegations about my husband. We'll be good."
Vicki's first scene in the episode was with her daughter, Brianna, to whom she ends up venting about Tamra and Shannon.
"I saw Tamra and Shannon and I can't say hi to them. I don't have any anger, I just have disgust."
Brianna was completely sick of her mother's drama. "There are a lot of ingredients in this sh*t recipe that's going on here. I'm so over it. Just take some fireball shots and be friends," she advised her mother.
Article continues below advertisement
The screen then flashed to Meghan Edmonds, who did a sexy photo shoot to show off her post-baby body, of which she was very proud of.
"The baby is just needy, needy, needy," she complained. "There is a lot of baby talk. I just want to be an adult again and get dressed up and get my life back. I've been consumed with this little human."
Peggy and her "husband" Doug Sulahian went on the strangest lunch date ever, where he pretended to be a butterfly by waving his hands in front of his face at the waitress, who definitely didn't get the joke.
"Being married for 21 years is not easy. It's work. I think laughing is a necessity for marriage," Peggy confessed. She told Doug about her lunch with Shannon, but admitted she isn't really getting along with the women and their constant backstabbing. "I don't like it. It is not my style."
Kelly Dodd and Vicki hung out, with the OG from the OC telling her friend that she's not interested in repairing the friendship with Shannon and Tamra. "I'm ignoring them, they suck the energy out of me."
Article continues below advertisement
She warned Kelly about hanging out with Tamra. "My theory is she's going to come on your side, and either turn it on me or turn on Shannon."
The Judges and Beadors headed to a double date at Mastro's Steakhouse, a Housewives favorite, where the conversation revolves around the upcoming Spartan race.
Shannon revealed that she is back with her trainer, Dr. Tim, and that she dropped another four pounds plus three percent of her body fat. Still, that wasn't enough for her to join her husband in his Spartan race.
"A week before the vow renewal, David ran his first Spartan race with Eddie," an emotional Shannon recalled. "And ever since it's become an obsession with him. The exercise is David's number one priority."
Shannon criticized David over his obsession with staying fit: "You come home from work, sit for 15 minutes for dinner then go workout." When Tamra tried to compliment him, Shannon admitted why she was so hurt: "He's doing it alone."
Article continues below advertisement
Tamra was not happy with her friend's actions. "There's one thing I don't do to my husband, I don't emasculate him in front of other people. That's not a good sign. That's not a healthy marriage."
She tried to encourage Shannon to work out with David, but was given the middle finger in response.
Tamra's nastiness continued into her lunch with Peggy.
"I understand Peggy's gone through a lot in her life so I'm going to give her a second chance. If she fixes that resting b**ch face," she said before their meet up.
"I haven't known Tamra for very long, but from what I see she tends to blow things out of proportion."
Tamra explained that she didn't want Peggy to "shove Vicki down my throat," to which Peggy responded: "I didn't know why you acted so dramatically."
Tamra fired back at Peggy's nasty comment, saying, "I told Meghan or Shannon. Is it me, or does she have a resting b**ch face?"
"A resting b**ch face?" Peggy said in her confessional. "Don't act like a b**ch and I won't give you the face."
Article continues below advertisement
Tamra warned Peggy, "Don't try to be the peace maker," but cattily slammed her once again saying, "I think she has a resting **ch face."
At the Spartan race, Tamra, Eddie, Lydia, Doug McLaughlin and David all made it to the finish line, but Shannon was nowhere to be found.
St. Patrick's Day arrived and Kelly, Meghab and Shannon went drinking together, ending the show in tears of regret rather than tears of anger.
Shannon reiterated why she hated Vicki so much. "She made up my husband beating the sh*t out of me. It isn't true. I think that's dirty, below the belt," and Dodd admitted, "I'm the one that said it, not her."
Meghan told the group that she thought Vicki was manipulating Kelly and she needed to "wake up." Shannon became enraged with her ex-friend.
"You want to know why I gained my weight? From Ireland I didn't know if people are going to find out about this allegation? Is my daughter going to find out? You would have been stressed out."
Article continues below advertisement
But after enough drinks, Shannon and Kelly made up. "I know when you're under attack you go for the jugular," Shannon said. "I'm ready for the past to be the past. I'm ready to move forward."
"I'm super shocked that Kelly is apologizing to Shannon," Meghan said.
"Who would have thought that we would ever be having a good time together, let alone sharing tears together? Anything can happen!" Shannon concluded in the episode.
Stay with Radar for weekly recaps of all the insane drama on The Real Housewives of Orange County!
We pay for juicy info! Do you have a story for RadarOnline.com? Email us at tips@radaronline.com, or call us at (866) ON-RADAR (667-2327) any time, day or night.