Tamra Judge Mourns Loss Of Estranged Daughter In Explosive 'RHOC' Meltdown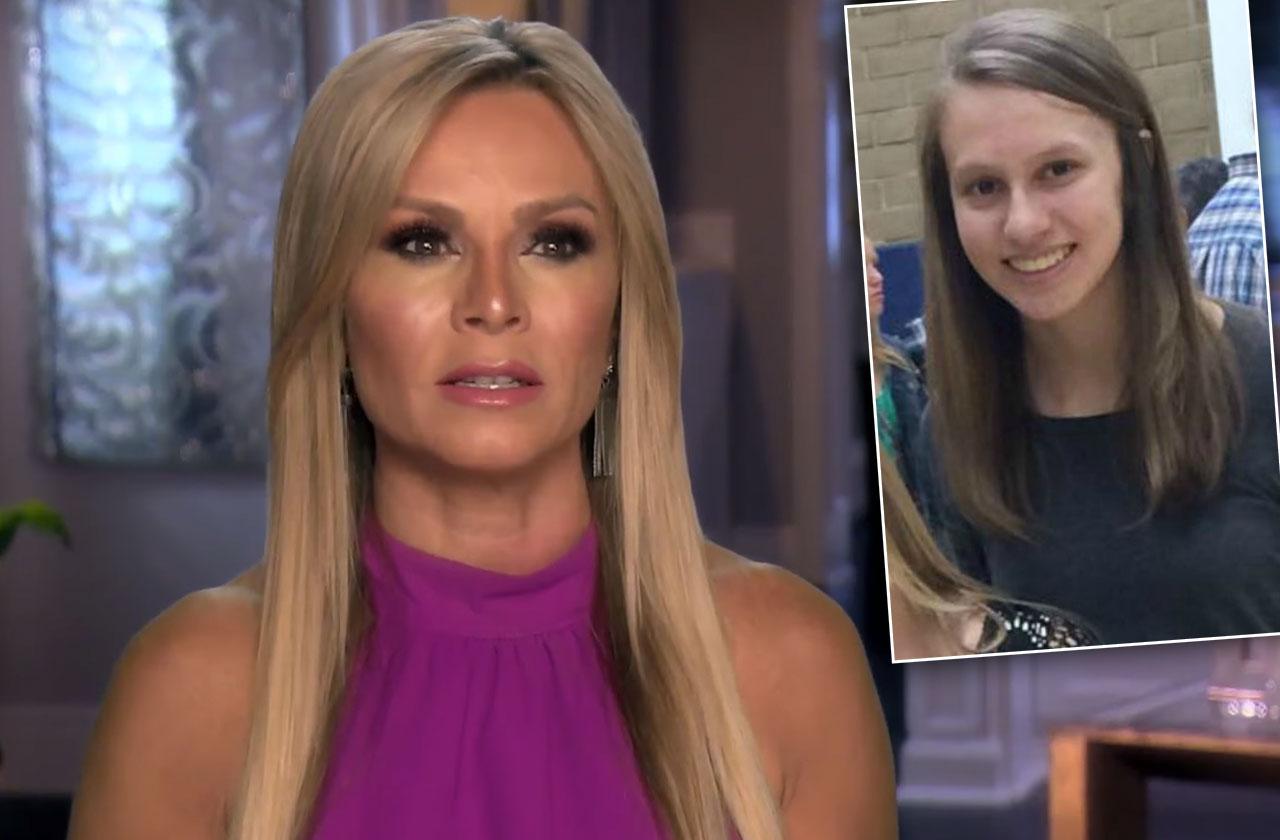 Article continues below advertisement
"I can't let someone like that get under my skin," Beador tells Tamra Judge. "I really beat myself up the next day. I'm going to be embarrassed for a while."
Dodd and her husband discuss the ugly situation and come to the conclusion that Dodd and Beador could be friends, if Judge wasn't always interfering.
"We have a new puppet master," Michael Dodd states.
Beador sums up the fight: "The not so quiet women were at The Quiet Woman."
The screen switches to Dodd dragging Vicki Gunvalson along for her vaginal rejuvenation surgery.
"I'm a little leaky down there," Dodd admits. "I'm hoping the tightening of the puss makes everything better for everybody."
"I'm here to get my sn***h tightened," she announces as she enters the doctor's office. Gunvalson isn't exactly comfortable getting so close to Dodd's private parts.
"I don't want to see anything. I don't want to see any pink parts. I don't want to smell anything. I don't want to know what's going on down there!" She tells her friend.
Article continues below advertisement
For some comic relief, Beador takes her 15-year-old daughter Sophie for a driving lesson, on a Range Rover. From erratic lane changes to a stop sign/stop light confusion, Sophie almost gives her mother a heart attack with her out-of-control driving, nonetheless reminding her "We're alive aren't we?"
Some of the women get together at Lydia McLaughlin's son's eighth birthday party where Gunvalson meets Peggy Sulahain for the first time. The newest housewife tells Gunvalson about her mastectomy which elicits a measured response from the OG from the OC.
"Anything you need you have my number, help with your kids," she offers Sulahain, but in her confessional sings a different tune.
"After my situation with Brooks, I kind of feel like health issues should be kept private. I'm here for her to have her talk about it. I'm not the one who is going to start researching or asking for records. No, hands off on this one."
Switching scenes, Judge has a heart to heart with her son, Ryan Vieth, who reveals that his sister Sidney was at his house recently. He says he told her: "You're missing so much sh*t. You're missing everything."
Article continues below advertisement
Judge admits that her relationship with her ex was on the mend. "My past with Simon has been bad. But now my relationship with Simon is so much better. He realizes and I realize that we need to come together because the way that we are living now is not good."
Judge describes seeing Sidney at her son's house. "Do you understand that's the first time I've fricking hugged my daughter without being in court in four years? I looked at her and said 'I don't even know you.'"
Vieth then tells his mom that his relationship with Simon Barney was detrimental to him, but that as a parent/step-parent now he understands.
"I do relate to Simon. I even spoke highly of him the other day. The girls weren't doing their chores. I told them I had a step dad who was an a**hole," and then he bursts into tears.
"It makes me feel good that he's growing up," Judge says and as she cries Vieth says: "I get why Simon was such a prick to me."
Article continues below advertisement
Judge then jokes with her son: "Sometimes you gotta show your mangina."
Meghan Edmonds appears for a brief moment, introducing her new nanny (a young blonde) and meeting with Dodd after their last fight.
"I just cut Kelly Dodd out for a few months. It is a lot easier to get along with Kelly than fight with her."
Edmonds is shocked by Dodd's fight with Beador. "The way that Kelly goes after people is not normal," she admits.
Gunvalson visits Sulahain at her immense mansion and surmises that the two will be fast friends after Sulahian breaks down over the death of her parents.
Judge's emotional night giving a speech with the Erasing Families group ends the show on a heartbreaking note.
Her own father shows up and she admits that she took her mother's side in the divorce, alienating him in favor of her mother. But her mother doesn't attend the event, crushing Judge before she goes.
Article continues below advertisement
"Being erased from your child's life, you instantly feel like a bad parent," she describes. "People don't realize it is happening to 22 million people in the world."
She breaks down in tears about her mother's absence. "It hurts my feelings that my mom didn't think it was important enough to show up."
Judge cries through the speech that she gives, telling the group she was "Honored and sadden to stand here. I have lived the past three and a half years in silent pain. People tell you all the time, 'Don't worry, she'll be back.' Everytime someone says that, I want to punch them in the face."
Sidney's mother continues, sobbing as she says: "I do believe that my daughter will be back one day. Just like I believe your children will be back one day. Love your children more than you hate your ex. Kids deserve to have both parents in their lives."
Stay with Radar for weekly recaps of all the insane drama on The Real Housewives of Orange County!
We pay for juicy info! Do you have a story for RadarOnline.com? Email us at tips@radaronline.com, or call us at (866) ON-RADAR (667-2327) any time, day or night.