'We Like To Play… We Definitely Gravitate Towards One Another': New Beverly Hills Housewife Carlton Gebbia Talks Kissing Partner, Brandi Glanville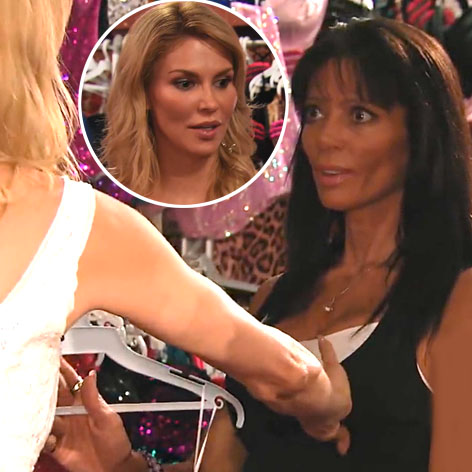 In a trailer for the new season of The Real Housewives of Beverly Hills, a clip seductively teased party girl Brandi Glanville making out with her new costar Carlton Gebbia!
Now, in a preview clip for the upcoming episode, Glanville and Gebbia open up about their relationship.
First, their relationship starts to get intense in the video when Glanville and Gebbia start talking about the size of Gebbia's breasts and Glanville eventually reaches over to cop a feel.
Article continues below advertisement
"There's a lot of boob," she jokes as she touches Gebbia's breast in the middle of the costume-lingerie store.
"I'm not not a lesbian," Glanville then tells the cameras in a confessional. "I've never been in a relationship with a woman, but I find women attractive and beautiful and sexy."
And then things get turned up as Gebbia tries on a sexy costume for Glanville and steps out of the dressing room for her costar's critique.
"Woo, my god," Glanville states as Gebbia walks out. "I never realized that her body was this insane ," she adds to the cameras.
After Glanville exclaims that Gebbia is "good from the front," she walks over to put a feather boa around Gebbia's neck.
"We definitely gravitate towards one another," Gebbia tells the cameras in her own confessional with a sly smile on her face. "We like to play."