Lisa Vanderpump SLAMS Brandi Glanville After Vile RHOBH Comment: 'Stank Of Her Feeling The Necessity To Be Controversial… Is Getting A Little Old'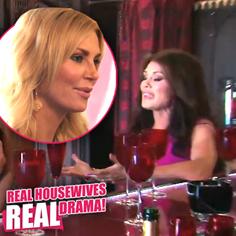 Article continues below advertisement
"We might be friends, but that stank of her feeling the necessity to be controversial, which is getting a little old."
Though Eddie Cibrian's ex-wife claimed she meant the vile comment "as a compliment," many stars weren't amused.
After the episode, Glanville took to her blog in an effort to defend her brash choice of words.
"I met Carlton's best friend through my girlfriend and she said that Carlton was a girls' girl and 'c---y in a good way,' so I assumed it was safe to repeat this," she wrote.
"Not everyone clicks from the get-go, and some of our friendships will take more work then others."
As for Gebbia, she confessed that she wasn't offended by the choice of words.
The latest Housewife wrote: "We are all having lunch and unfiltered Brandi compliments me with the 'c word.' I didn't find it offensive because I have friends that use that word. I'm not a huge fan of it, but it's nothing I haven't heard. It just depends on the way it's intended. So why wasn't I up in arms by what she said? Well it's quite simple, I like Brandi."
Watch the incident in question below: