'Put A Muzzle On It': Lisa Vanderpump Takes A Swipe At Nemesis Brandi Glanville After 'Disgusting' Joanna Krupa Diss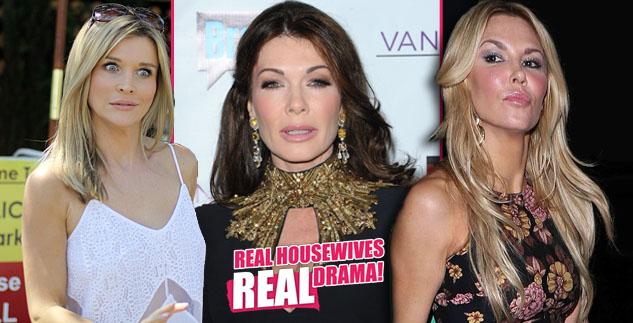 Article continues below advertisement
"I have endured so many hits from Brandi Glanville over the last few months," Vanderpump said in a new interview.
"Going on talk show Bethenny, her talking to Australian magazines, constant putdowns on Twitter -- I'm crooked, I'm weak, I'm this, I'm a puppeteer, I'm all these things. I've never retaliated because that's not who I am. And if it comes to the point where we're in a bitch fest, then I don't want to be any part of the show. I'm not going to involve myself in a public slanging match. However, when she says something so egregious about my friend Mohamed Hadid -- and it's gone everywhere -- I don't appreciate it at all," she told Us Weekly.
Glanville's comments that Hadid said Krupa's "p***y smelled," hit way below the belt, and she claimed that Vanderpump was a witness to the vulgarity.
However, Vanderpump says that is flat out not true.
"Mohamed Hadid is a man of integrity, he's a gentleman. When she opens her mouth, whatever she says, her remarks have repercussions. Actions have consequences.
"And so, she carelessly threw out something so egregious and vulgar and it was upsetting to Joanna Krupa, who I don't know very well at all . . . From what they both told me, she was not culpable in the demise of their marriage or involved in it in any shape or form. But I don't know, I'm not commenting on that. What I am commenting on is that she said my friend would say something so distasteful, so disgusting -- and the consequence is it affects him, his ex-wife , and his children. It's embarrassing and that man would never say that. That's why I'm retaliating and hitting back. Not to defend myself, but you talk crap about my friend I'm going to come out all guns blazing."
Article continues below advertisement
RadarOnline.com was the first to report, Glanville and Vanderpump have had a falling out and are bickering back and forth lately, but Vanderpump says she's clueless about the reasons behind their fractured relationship and that's when she sent the zinger telling her former friend to zip it.
"I think we should watch the show because I'm curious to find that out as well! Because I don't know. I almost don't want to know. What she said . . . I tried to make light of it and make a joke of it on Twitter with Joanna because it was so humiliating. Who wants to hear something like that? Sometimes I think she should just put a muzzle on it."
Do you believe Lisa or Brandi? Tell us in comments.