'RHOA' Star Porsha Williams Says Going To Jail After Kenya Moore Pressed Charges 'Was The Worst Moment Of My Life'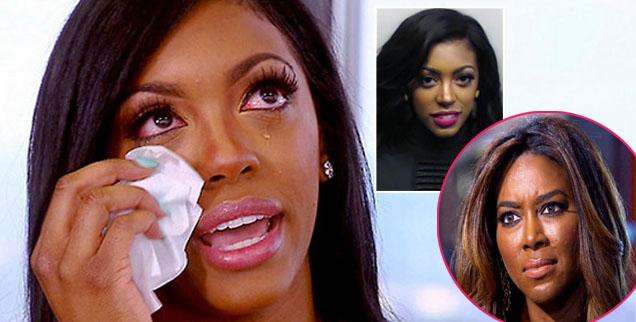 Porsha Williams portrayed herself as the victim in her notorious fight with co-star Kenya Moore on Sunday night's Watch What Happens Live, and RadarOnline.com has all the details.
And the Real Housewives of Atlanta star, who physically attacked Moore during the reunion show, told host Andy Cohen that after Moore decided to press charges, she endured a horrifying stay in jail!
Williams said she was ready to move on after the brawl, but Moore had other ideas.
Article continues below advertisement
"The next couple of days when I heard that she had filed charges and that I was going to have to hire an attorney...now it's completely out of our hands. It's in the law's hands," she recalled.
"Now I have to go to jail, sit in a jail with other inmates, pissy smelling, dirty, all of that, stay and get a mug shot, get fingerprinted, that will be there for the rest of my life."
And to Williams, it means at least for now, she can't speak to Moore.
Faked Scenes, Lies & Payoffs – The Ultimate Guide To Reality TV Shows
"There's no way I can sit down with her at this moment without acknowledging the situation," she told Cohen. "She has to at least acknowledge that she had ill will that day, just as I have. I have admitted I shouldn't have reacted that way.
"If she does that, maybe we can build from there and move to another level."
Looking back on the day she turned herself in to the police, Williams told Cohen, "I had to. I found out that she had filed for a warrant and they had given her a warrant for my arrest. So I had to go and turn myself in, which was horrible.
Article continues below advertisement
"It was the worst day of my life. I'd never done anything in my life to end me up in a jail and have to get a mug shot. For me to have to be there because of Kenya Moore literally was the worst moment of my life."
Cohen laughed about Williams' super glamorous mug shot and she admitted she had decided, "If you gotta go, look nice."
But Williams also said that she attracted unwarranted attention in jail!
"The men…haven't seen anybody. They see me and I'm lips popping and hair swinging. It was like, 'OH!' so that might not have been a good deal," she joked.
More seriously, Williams told Cohen she had watched the first part of the reunion when everyone else did: "It was hard to watch. I felt those emotions all over again. It was horrible."
The housewife said she had spoken to co-stars Phaedra Parks, NeNe Leakes, and Kandi Burruss after the explosive incident, but not to Cynthia Bailey.
Article continues below advertisement
"Phaedra was really upset. These girls know me at this point. I've been their friend now for two years straight so for them to see me act completely out of character and let Kenya win like that, I was sorry that was my reaction. But more than that, I'm sorry I gave her the power to make me go and do something like that."
However, Williams claimed she wouldn't have gotten physical if Moore hadn't used props — a scepter and a bull horn — on the reunion show.
"We can fight with our words. It was the fact that the props were there. It wasn't until she began to reach for me with the scepter that it went to another level," she said.
When Cohen pointed out Williams had called Moore a whore from the '90s, among other things, Williams insisted her rival was the one who provoked her: "I wanted her to understand you need to stop with the bull horn. This is beyond entertainment at this point. This is getting real."
Article continues below advertisement
Cohen apologized for not taking Moore's bull horn away during the show, and informed Williams props were now banned during reunions!
When asked if she would apologize to Moore, Williams indicated both of them were to blame, commenting, "I feel like Kenya and I may reach a level where we can apologize to each other. I think that's where we are at this point. I think there's been so much disrespect, so much hatred towards me that has caused her to sit at night and wake up and bring a prop to the job and cause her to go and press charges and me end up with a mug shot.
"I think I deserve for her to sit down and say, 'I acknowledge what I did. Maybe I shouldn't have done that.'"
Williams said she saw a sensitive side of Moore when watching her cry over the death of her dog Velvet, "But now I know I'm not dealing with someone who is operating in reality. I'm dealing with someone who is just performing. She needs to take a good long look in the mirror and just be honest with herself and acknowledge the intentions that day."
Article continues below advertisement
The ex-wife of former football player Kordell Stewart seemed annoyed about co-star Bailey's comment that Williams wasn't being threatened by Moore, which was followed by statements that maybe Williams HAD been provoked. "She's flip-flopped back and forth. Cynthia needs to get a mind of her own."
Williams said the dissolution of Leakes and Bailey's friendship was hard to watch on the reunion show. But to Williams, Bailey is a completely different person in her interviews from how she is on the show.
Weighing in on Moore's relationship with Parks' husband Apollo Nida, Williams told Cohen, "I definitely think something inappropriate took place. There's some fire there."
But she felt whatever it was happened a couple of years ago — and believed Moore had kept the love triangle storyline alive on her own.
Regarding her big regret of the RHOA season, Williams mentioned the infamous underground railroad moment when she thought it was an actual train!
Article continues below advertisement
After Moore criticized her for botching African-American history, Williams sighed, "Nobody is as hateful as this girl Kenya."
Williams pointed out Moore had said she was the FIRST black Miss USA, and she wasn't.
Still, Williams admitted the train incident "was an embarrassing moment. Next time I'll think before I speak."
During the one-on-one with Bravo host Cohen, Williams also told viewers she was dealing well with her divorce.
Cohen asked aspiring singer Williams about her recent allegation that Stewart had physically abused her during their marriage — which he has denied.
Williams depicts an abusive relationship in her new video "Flatline" and said, "Me doing the video and showing what happened to me, it's not for me to really get a comment from Kordell. It's a way I artistically decided to put my feelings out there."
Cohen pointed out Williams had implied Stewart was gay on RHOA — but she claimed she never said that, although she did call him a queen!
Article continues below advertisement
However, on WWHL, Williams stirred up the topic again, shrugging, "I don't know why he didn't want to lay with his wife and make a baby."
According to Williams, she didn't ask Stewart for financial support because she didn't want their dirty laundry aired in court.
But the singer, who had a role in Burruss' play A Mother's Love, hasn't looked back. "I haven't needed a dime," she said. "I haven't wanted for anything and that's without Kordell's money."
Williams denied her new boyfriend is a dictator, as has been reported, but added, "I do have a special someone in my life. I'm not claiming him yet."
She also has new boobs thanks to cosmetic surgery! "I love my body. I'm grown and I'm sexy and I'm owning all my curves. I'm not worried about what anybody says about me," she said.
Winding things up with Cohen, Williams said of the bizarre melee that has made her famous, "I want people to know I'm only human and I make mistakes but I mean well. I want to apologize to the viewers, the whole cast. I wish I would have taken another option."