Parents Of Sandy Hook Victim Sit Down With Shooter's Father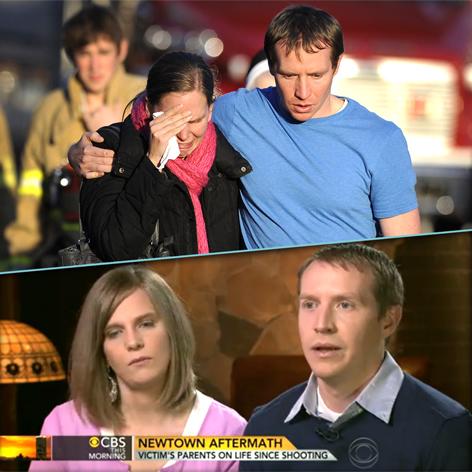 The family of one of the Sandy Hook school shooting victims faced the toughest challenge since they buried their six-year-old daughter last December by coming face-to-face with the father of her killer.
Alissa and Robbie Parker made the heart-breaking decision to meet Peter Lanza, father of Newtown shooter Adam Lanza, in the hope of bringing some kind of closure to the devastating tragedy, she told CBS This Morning.
Article continues below advertisement
"I guess the reason why I felt strongly that I needed to tell (Peter Lanza) something and I needed to get that out of my system. I felt very motivated to do it and I felt really good about it, I prayed about it and it was something that I needed to do," the mourning mother revealed in the emotional interview that aired on Thursday and will conclude on Friday.
Her husband Robbie went on to explain the roller coaster of emotions that they have been riding in the past three months. "You know, you went from the absolute worst experience that you could ever imagine to have to go through as a parent... and being overwhelmed with that sense of grief and loss to, on the other end of the spectrum, you're being completely overwhelmed with outpouring of love and support from so many people and everything that kinda falls in between," he told CBS.
The Parker's daughter, Emilie, was one of 20 first-graders who were killed by Lanza when he opened fire at the Connecticut elementary school on December 14.
Sadly, whatever they do now to try and heal the gaping wounds, "Doesn't change anything. It doesn't change that our child's gone," said Alissa.
As RadarOnline.com previously reported, Lanza, 20, shot his mother in her bed before taking an arsenal of her firearms to the school, killing 20 first-graders and six staffers. As police drew in on him, he shot himself in the head.