Ohio School Shooter T.J. Lane Sentenced To Life In Prison -- Wears 'Killer' T-Shirt In Court, Gives Finger To Victims' Families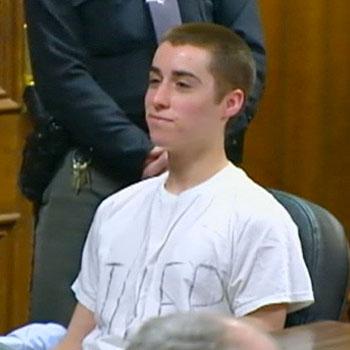 Ohio school shooter T.J. Lane rubbed salt into very open wounds when he basked in the sick glory of his deadly massacre by wearing a white t-shirt with the word "KILLER" emblazoned across the front during his sentencing hearing on Tuesday.
Now 18, the young convicted killer -- who was sentenced to life behind bars -- rebelled against the advice of his lawyers by addressing the courtroom filled with mourning family members of his three victims and showed zero remorse for their loss, reported the Plain Dealer.
Article continues below advertisement
"The hand that pulls the trigger that killed your sons now masturbates to the memory," Lane crudely told the disgusted courtroom, before he announced: "F**k you all," as he raised his middle finger to them all in sick pride.
As RadarOnline.com previously reported, Lane went on a shooting spree at Chardon High School esst of Cleveland around 7:30 a.m. on February 27, 2012, in the cafeteria and resulted in the death of three students, Daniel Parmerto, 16, Russell King Jr., 17, and Demetrius Hewlin, 16, and two others injured.
Lane's foulmouthed response to the judge handing down a life sentence for the shooting spree brought gasps of horror from the room, with some witnesses in the gallery being brought to tears.
"You're really lucky there's so many police in this room," said Holly Walczak, mother of shooting victim Nick Walczak, who was left paralyzed, during a statement before sentencing as Lane smiled.
"Because of you, our quiet little town will never be the same. Why? Why did you do it? Why?"
MORE ON:
Celebrity Justice
Article continues below advertisement
|
|
The mother of victim Danny Parmertor couldn't hold back her horror over the ongoing pain the Lane inflicts on her family, telling him: "You're a pathetic excuse for a human being. In fact you're not even human. You're a monster," said Dina Parmertor.
"I want you to be ensured years and years of pain, which in my opinion is not enough. You don't deserve to take another breath while my 16 year old son lies in the ground because of your cold, disgusting actions. You're a weak, pathetic, vile coward."
Prosecutor James Flaiz summed up the heinous depth of Lane's attitude by saying: "What we're dealing with is a disgusting human being. ... He still refuses to offer any explanation for why he did this."
Lane, who was 17 at the time of the killings, pleaded guilty on February 27 to three counts of aggravated murder, two counts of attempted aggravated murder and one count of felonious assault. As he was a minor at the time of the shooting, he is not eligible for the death penalty, but he won't be up for parole for at least 26 years.