Nicki Minaj Has ANOTHER Wardrobe Malfunction, This Time While Shooting New Video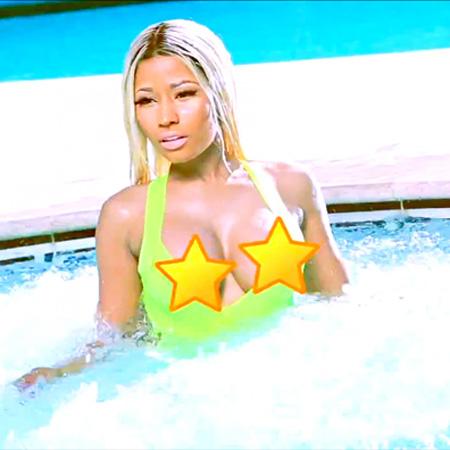 It's happened before, it'll happen again.
Nicki Minaj had a wardrobe malfunction shooting the video for her song High School, when her neon-green bathing suit slipped down in a hot tub, causing both of her breasts to pop out.
PHOTO: Nicki Minaj Has Onstage Wardrobe Malfunction
The busty Super Bass singer wasn't aware of the exposure at first, and didn't seem too fazed when she noticed what was going on, pulling up her top and getting on with business.
Article continues below advertisement
The American Idol judge has a history of her boobs falling out, including a nationally televised incident on Good Morning America in 2011; a similar instance in 2012 on BET's 106 & Park; and another time in 2012 during a concert in England on her Pink Friday: Reloaded Tour.
Watch the video on RadarOnline.com (Nudity Is Censored)
"You guys have seen my boobs before … you won't tell anyone, will you?" the singer joked with the British crowd.
Nicki can be seen on American Idol, which airs Wednesday and Thursday on Fox at 8/7c.