TV Anchor Reads Breaking New Bulletin -- And It Turns Out To Be Her Boyfriend's Proposal!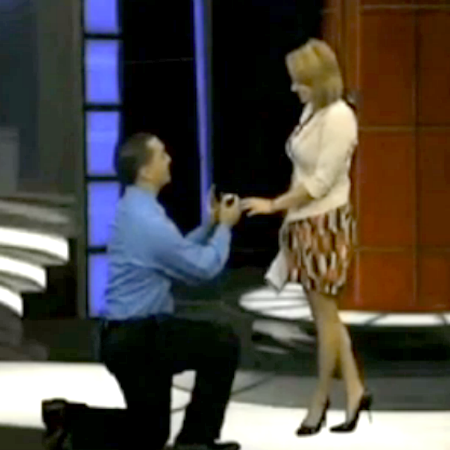 Huntsville, TN. news anchor Jillian Pavlica got the surprise of her life during Saturday night's broadcast, as her boyfriend cleverly proposed to her … through the show's teleprompter!
"We have some breaking news to report to you," she said with a sense of urgency. "FOX54 has just learned that a Huntsville news anchor is being proposed to on live TV right now …"
At that point, her fellow anchors walked out of the camera shot, leaving her standing alone to digest the life-changing news.
Article continues below advertisement
That's when her partner Vince emerged, dropping to one knee and telling her, "Finally all our pieces are falling together. I can't picture a day in my life not waking up with you.
Watch the video on RadarOnline.com
youtube
"Jillian Pavlica, will you marry me?" he asked, to which she said tearily, "Yes," and the two kissed.
"You had this planned all along," she said.
A co-worker reading the weather after the segment, riffed off the surprise saying, "Here in the FOX54, 100 percent chance of a few tears of joy tonight."
Jillian tweeted Saturday, "Still can't believe I'm engaged. We've been together 6 years and I'm just thrilled. Thank you all :)"