Newborn Baby Death Turns NYC Hit-And-Run Into A Triple Tragedy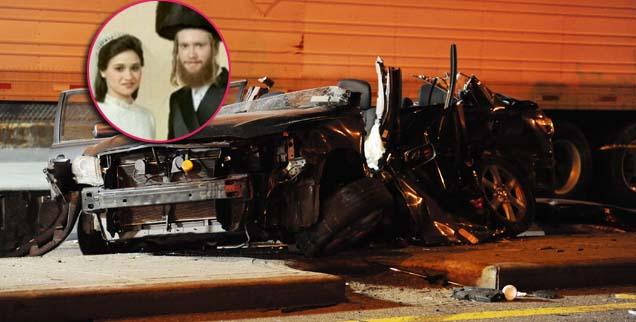 A horrific hit-and-run accident in New York City claimed a third victim on Monday as the newborn baby who had been rescued from his dying mother's womb lost his brief fight for life, RadarOnline.com is reporting.
Doctors were able to deliver the premature infant by Caesarean-section following the devastating car crash that killed Brooklyn couple, Nachman and Raizel Glauber, both 21, on Sunday morning as they rushed to a hospital in the back of a taxi because the expectant mother was experiencing mystery pains.
Article continues below advertisement
Tragically, the future family was ripped apart when a BMW plowed into the cab at an intersection in Williamsburg, reported WABC News.
The violent crash sent the engine of the Toyota Camry livery cab into the back seat, where Raizel was sitting before she got flung out of the car, with her body landing on a parked tractor-trailer. Her husband was pinned inside the vehicle and emergency crews had to cut him out, but sadly they were both pronounced dead from blunt-force trauma at the hospital soon afterwards.
Detectives are now searching for the driver and showing his photo to witnesses, while the woman who had co-signed the BMW's lease - 29-year old Takia Walker of the Bronx - has been charged with insurance fraud for allowing a third party to use the vehicle without notifying the insurance company.
In a recent development, authorities are now looking for driver Julio Acevedo, 44, who had a DWI arrest just two weeks ago.
Article continues below advertisement
According to DNAinfo.com, Acevedo served eight years in prison for manslaughter in a 1987 shooting death and also has a 1997 robbery in the Bronx on his record.
Authorities state Acevedo was going at least 60 mph when the BMW he was allegedly driving slammed into the cab carrying the couple to a hospital.
Weighing just three pounds, the baby boy, who was named Nathan after his father, suffered from extensive brain and internal injuries that were treated in intensive care during his brief lifetime. He will be buried in upstate New York as soon as his body is released from Bellevue Hospital.
Meanwhile, hundreds of Orthodox Jewish mourners packed the streets outside the Khal Yitav Lev synagogue for a funeral for his parents on Sunday afternoon.
"We in the community are demanding that the prosecutor charge the driver of the BMW that caused the death of this couple and infant ... with triple homicide," Isaac Abraham, a community leader and neighbor of the dead couple, said in a statement announcing the latest loss.
"This coward left the scene of the accident not even bothering to check on the people of the other car."