Man Trapped Under Burning Car 'Thought It Was Over,' Says His Family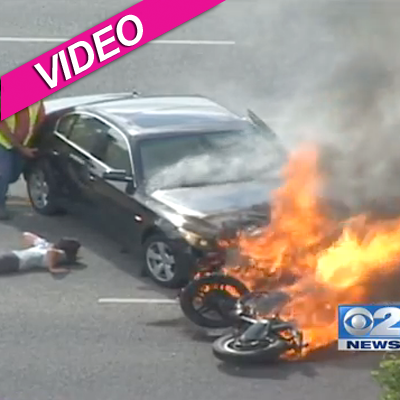 The video of a young man trapped beneath a burning car on Monday shocked the country, but it was the bravery of those who risked their lives to save him that has equally captured the world's attention.
Brandon Wright, 21 of Richmond, Utah, is expected to make a full recovery, and told family members on Tuesday that he thought he was going to die in the fiery wreck.
"He did remember being under the car and the flames and when he couldn't talk he was scared to death. He thought it was over," revealed his uncle, Tyler Riggs, reported ABC4.com.
Article continues below advertisement
The Utah State student was on his way to college on Monday morning when he laid his motorcycle down on the pavement to avoid colliding with a BMW that was emerging from a campus parking lot.
Unfortunately, the two vehicles still collided and Wright was trapped underneath the 3,800 pound car as his bike burst into flames -- and what happened next has defied belief of all those who have seen it.
About a dozen good Samaritans, including the driver, somehow work together to lift the BMW and drag the injured man to safety, reported ABCnews.com.
They summon super-human strength as the flames lick close by to haul the car, which weighed almost two tons, off Wright.
Miraculously, Wright is doing well and has been removed from the intensive care unit at Intermountain Medical Center in Murray, Utah.
"He does remember the crash happening. He remembers being under the car spitting up blood and not being able to talk," said Riggs. He was scared and trapped. He didn't know what to do."
Article continues below advertisement
"He knew the flames were there and he couldn't speak until after he was pulled out," revealed his uncle.
The video that plays like something out of a Hollywood blockbuster was shot by a Utah State University graduate student and has already gotten 60,000 hits on YouTube, but the star of the film has not yet seen the footage.
"I don't think he really understands the video exists. At some point after things calm down someone might introduce it to him and ask him if he wants to see it," said Riggs.
"He knows people saved him yesterday and they are our heroes," concluded his uncle.
Wright has broken legs, a broken pelvis, road rash and a bad burn on his leg, but no serious head injuries despite not wearing a helmet at the time of the accident, according to the report on ABC4.com.
The video of the dramatic rescue has already gone viral and has received more than 60,000 views in only a few days.