'Bitter, Childish' NeNe Leakes Should Be Fired From 'RHOA,' Blasts Wendy Williams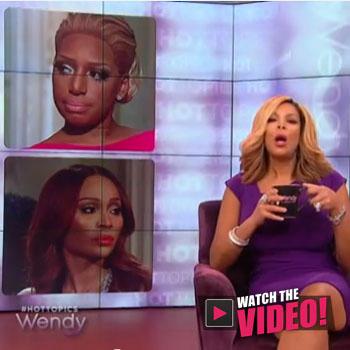 Wendy Williams' feud with The Real Housewives of Atlanta star NeNe Leakes continued Monday, as the talk show host candidly insisted that she thinks Leakes should be fired from the hit Bravo franchise.
"NeNe, needs to go," Williams announced. "I understand that she's the highest paid housewife and all that other kind of stuff, but … she stayed so long that she went from being likable, loveable, and comical to being mean, jealous, vindictive, childish. Just childish, bitter — all that. NeNe needs to go."
Article continues below advertisement
The outspoken talk show host continued to blast Leakes, over her numerous failed friendships.
"NeNe only wants to be friends with people who she views are beneath her," Williams said.
Ending the "Hot Topics" segment, the host revealed who she thinks should "receive a peach" and replace Leakes.
"Somebody at Bravo, give Marlo Hampton a peach and make her apart of the cast. I mean, I don't know what Marlo does for a living, the word on the streets is 'sketchiness.' But we need somebody new on the show who will make us not miss NeNe, and the rest of them when they go," she said. "I think that Marlo is perfect. We've met her enough to know we need more of her shade. Give that girl a peach, and let's roll,."
As RadarOnline.com previously reported, Leakes and her former bridesmaid Hampton had a public falling out – spurred by Hampton's budding friendship with Kenya Moore.
In March, Hampton spoke to RadarOnline.com about Leakes, admitting there likely wouldn't be a heartfelt reunion between the pair.
"I was surprised by her reaction to me becoming friends with Kenya. It's like, 'Are we in high school right now?'" Hampton said.
Article continues below advertisement
"NeNe does better with mimes as friends. It's ok as long as you're praising her and being her cheerleader, but as soon as you go to disagree, it's a problem. I'm real and not going to sugarcoat something just so she can feel happy."
Williams previously slammed Leakes back in March, when she said — correctly, it turns out — that the reality star had no chance of winning Dancing with the Stars.
Watch her latest slam here: